Live chat and other communication channels keep you in touch with your customers
There are several ways to contact leads: email, chat messages, pop-ups or social media integration: Facebook, Viber, Slack and Telegram.
No matter what channel will be used for the communication - all conversations are kept in the Inbox section.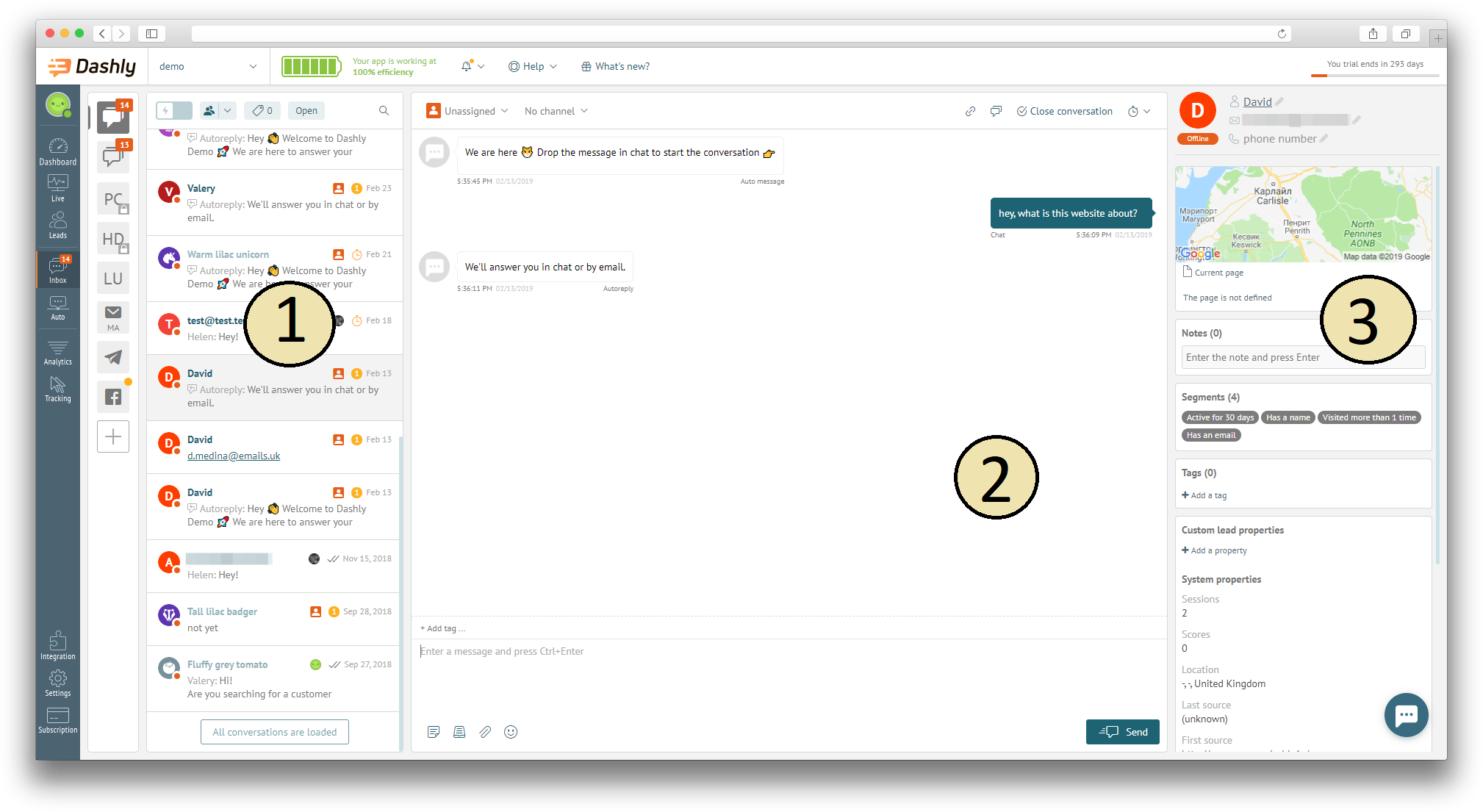 This page is divided into three sections:
1. the list of conversations;
2. conversation box;
3. lead card.
Channels
Channels help you distribute the conversations by topic, teams (departments), communication channels (live chat, email, social networkings) or segments (audience).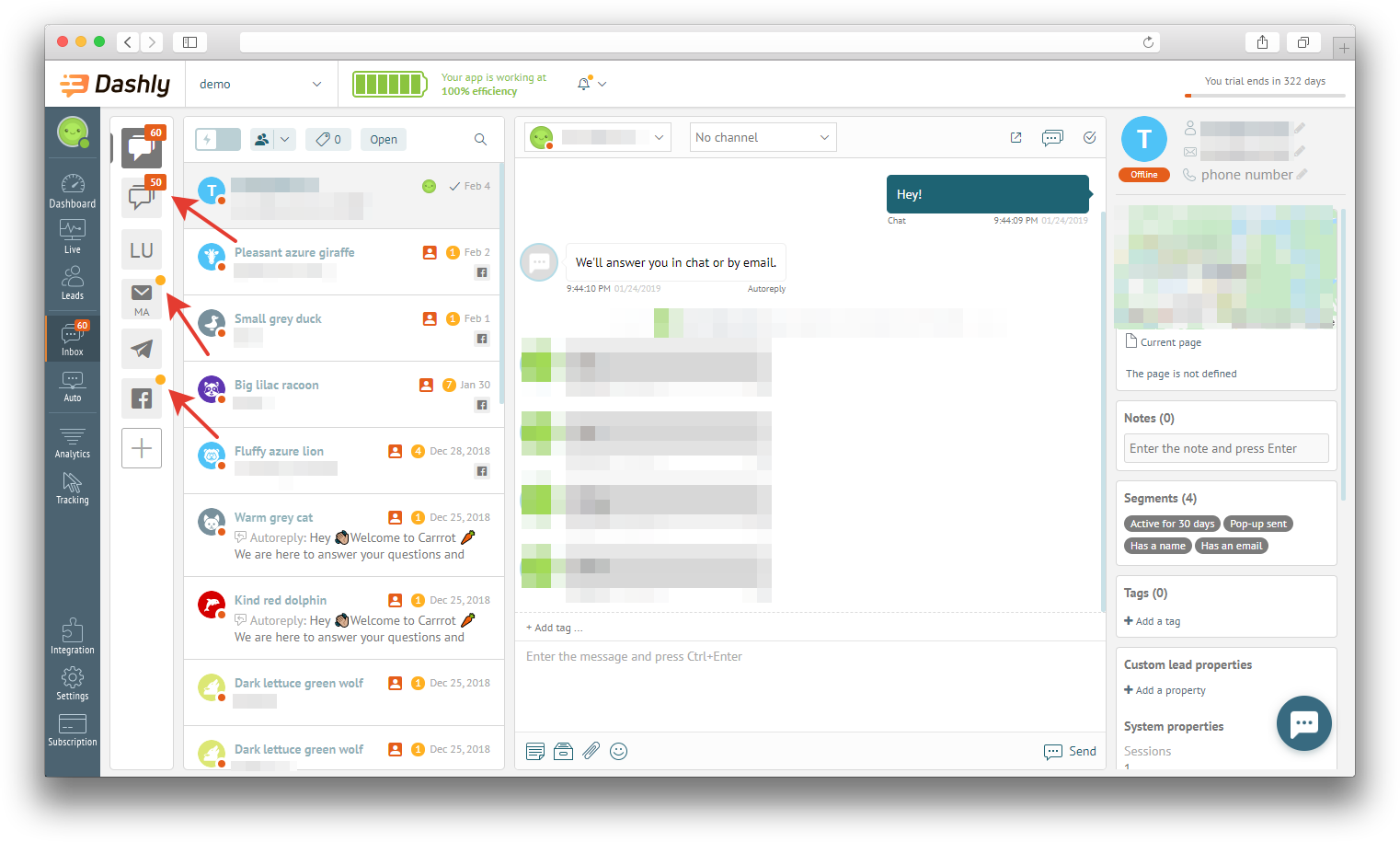 Here is where you can get detailed instructions on how to add channels.
The list of conversations
Here you can see conversations with all your leads. You can learn a lot about the conversation from its preview:

Conversation filter
Use a filter to find the needed conversation quickly. The filter is placed above all conversations.
1. Unanswered conversations are a click away: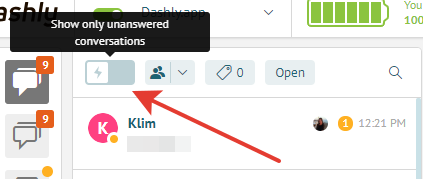 2. The conversations can be also filtered by Unsorted, My conversations and unsorted, My conversations or by operators: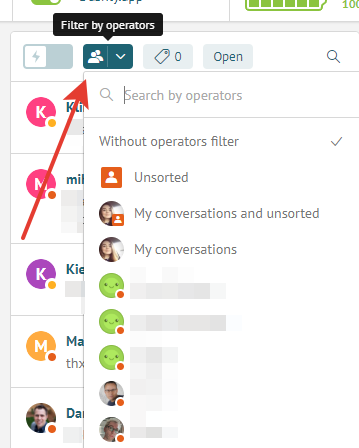 3. If tags are added to conversations, then you can quickly filter the conversations by tags: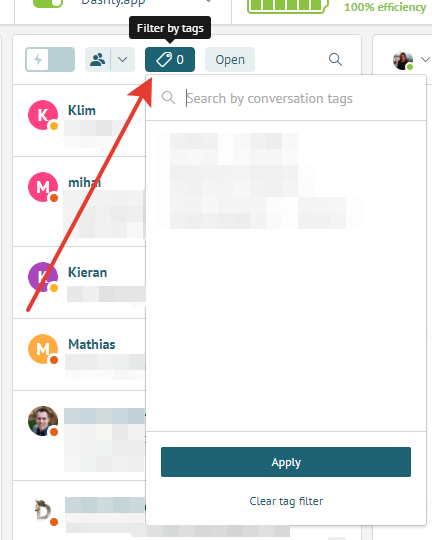 4. Conversations can be filtered by the status: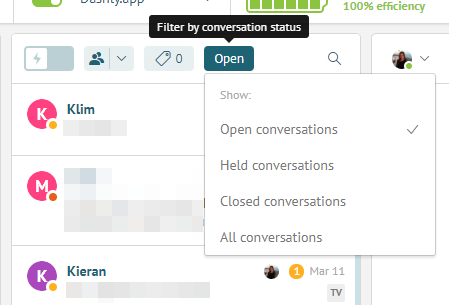 5. Search by words:
Conversation window
Let's see what elements are there in the conversation window: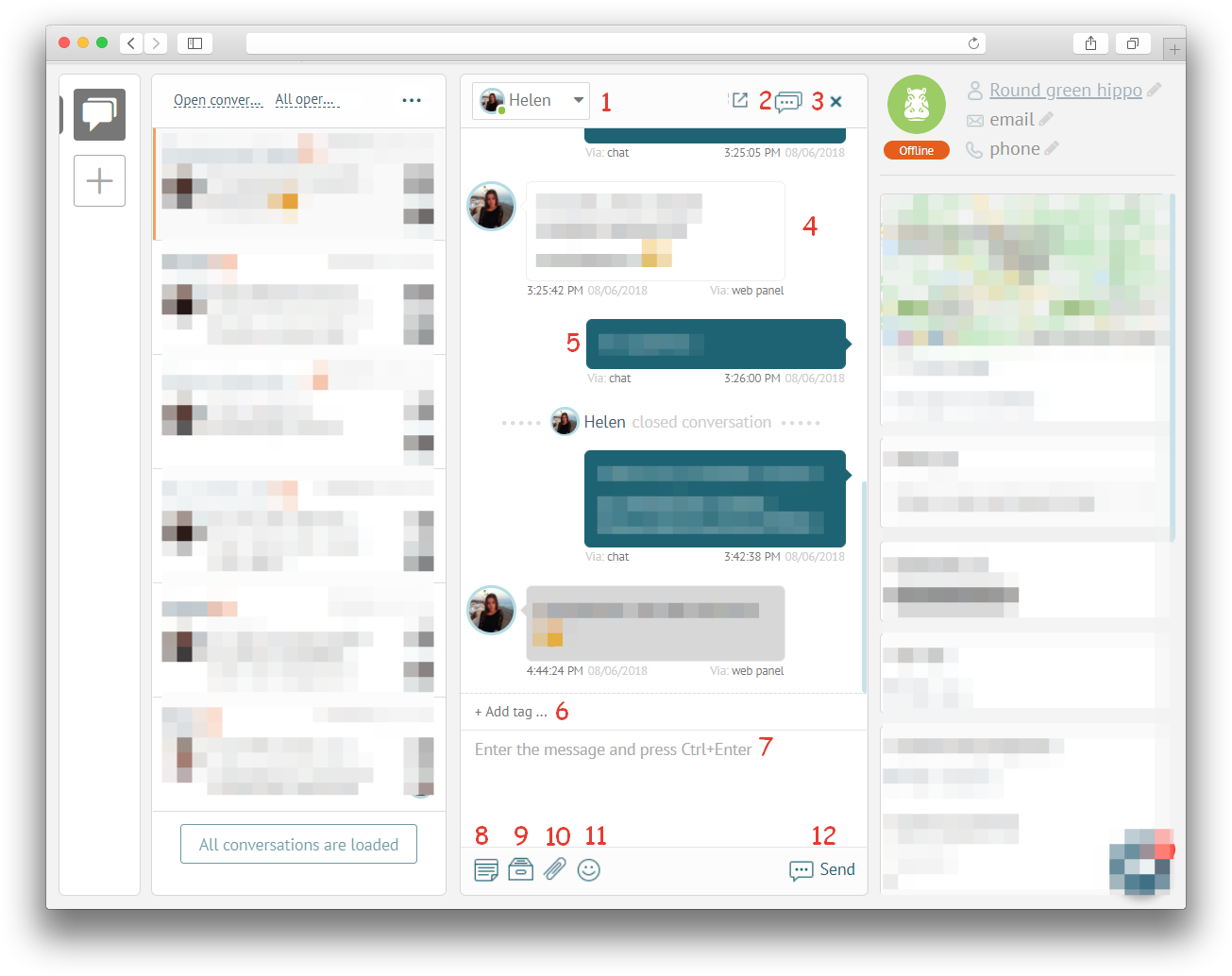 Assigned operator. When a visitor contacts you via chat, their conversation will be marked as unsorted, so any operator will be able to reply. As soon as someone replies to it, the conversation gets assigned. You can reassign the conversation or set auto assignment as well.
Conversation history. Every message creates a new conversation. Every time a visitor contacts you via chat or email, their own conversation is created. As a result, you may have several conversations with one person.
"Close the conversation" button. When the question is solved, you can close this conversation and keep your list of conversations in order. If your lead decides to continiue the closed conversation, all operators will recieve the notification.
Operator's message. You can see operator's profile picture, text of the message, date and the channel from where the message was sent: via web-panel, desktop app, email, social media, etc.
Visitor message. Here you can see the same data: text of the message, date and channel.
Operator's reply will be sent to the same channel from where the first message came. If one contacts you via email, operator's answer will be sent to the email as well.
Tags. Tags are useful for navigation and search. These will also help you to memorize the main subject of the conversation and find all conversations with this tag.
You can create a new tag or choose from list of available tags. Tag will appear in tag field and in conversation preview on the left.
Message input field. Type your message and press Ctrl + Enter or send button to send it.
Note. Make notes for yourself and other operators. Visitors will never see them.
Saved answers. Do you often see the same questions from your visitors? Save frequently sent messages to save your time. You can create a message template in Settings -> Saved chat responses tab.
Files. You can attach files of any format. They will be sent in a separate message. You can drag the file to the conversation window or upload it from your computer.
Maximum size of the file: 2 MB
Allowed file formats: jpg, jpeg, png, gif, pdf, rar, zip, html, csv, docx, doc, xlsx, xls.
Emoji. Add emojis to make your conversation more friendly 😃


"Send" button. Messages should not be just written but also sent. Push the button or use Ctrl + Enter.
Close and hold the conversation
In order for operators to work productively with incoming messages, we were working on segmentation, screen dividing and putting all the unused info aside. To see less visual noise, close conversations you're done with.
How does the process of closing the conversation work?:
Operator solves lead's question and closes the conversation;
If during the timeout period (which is set in settings), the lead doesn't send any message, the conversation is considered to be solved. After that, the lead gets operator's evaluation request.
If during the timeout period the lead sends some message, the conversation reopens and all the process repeats again.
Set a time out in chat settings in Settings section: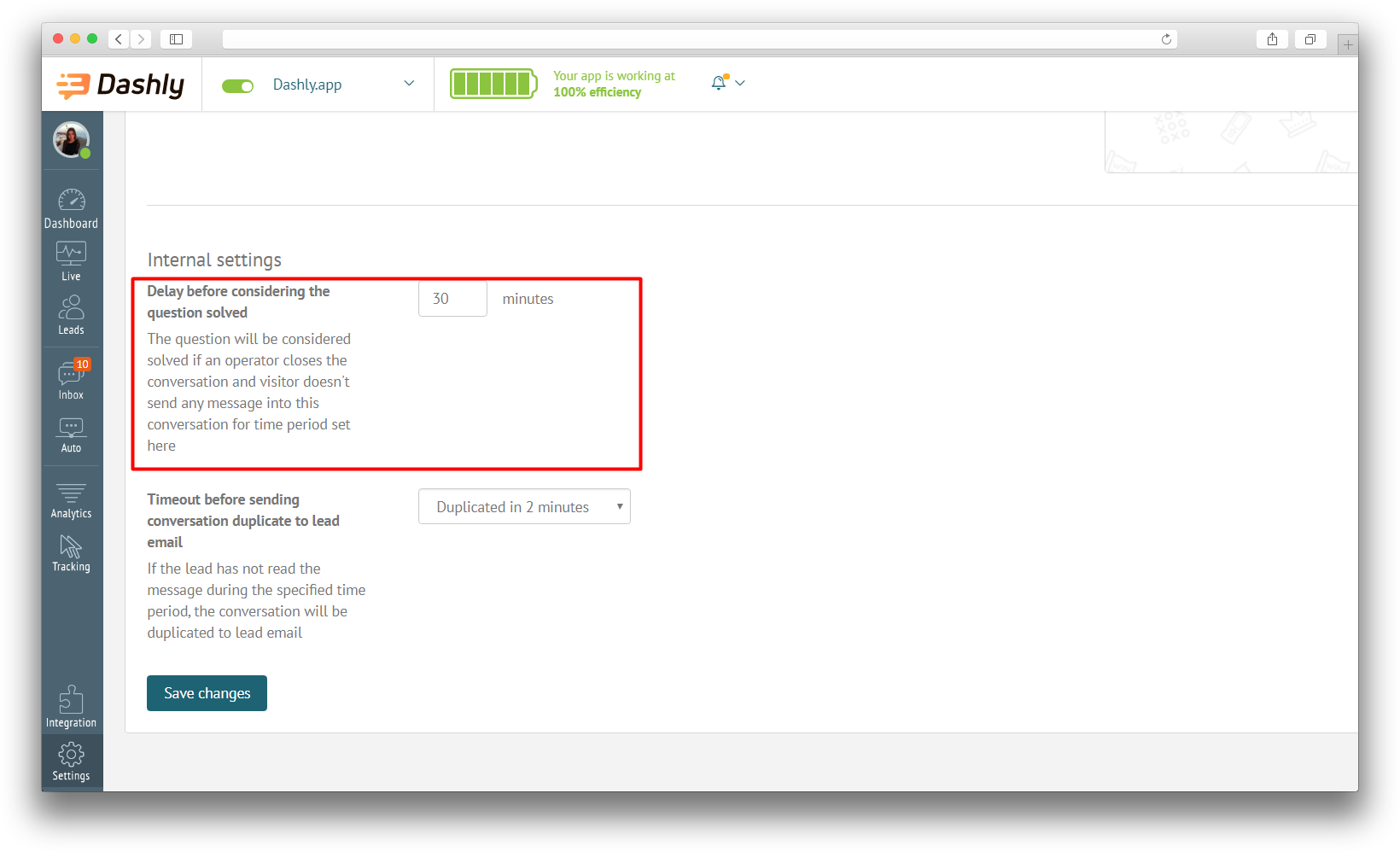 Why do you need to close conversations:
After the conversation is closed, the lead gets a message with operator's evaluation request;
Closed conversations are moved out of the conversation list and don't bother operators' attention (by default in conversation list you see only open conversations, but you can choose other filters);
Closed conversation are taking into consideration in Conversation report;
When the lead sends a message again, they'll see an auto reply as it is a new request.
Hold the conversation
Sometimes the question hangs in the air: you're waiting for someone else's reply, waiting for the feature to be launched, etc. For this conversation not to bother you, but not to forget about it at all, just hold it for the needed time.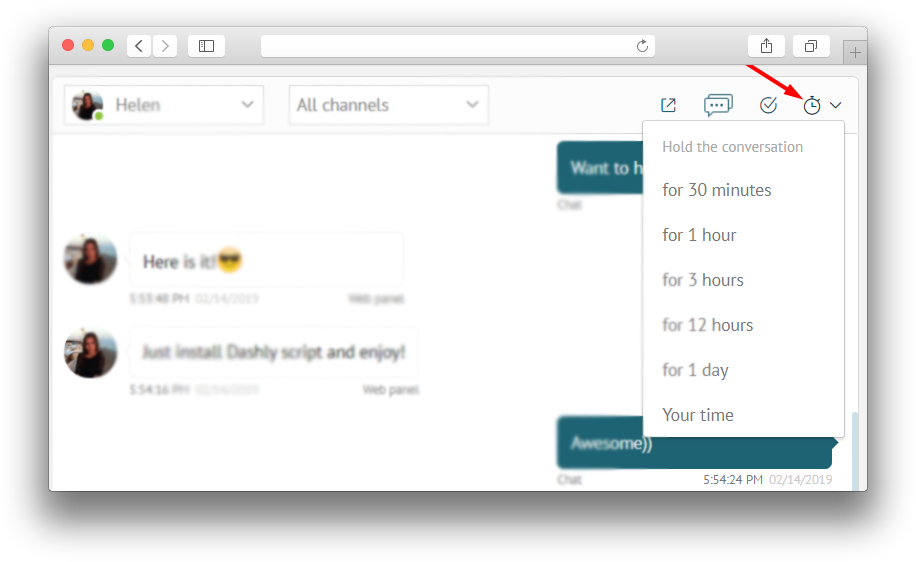 This conversation will be moved out of the open conversation list (but you'll find it in the Hold conversation - just change the filter). And when the time comes, you'll see this conversation in the list of open conversations again.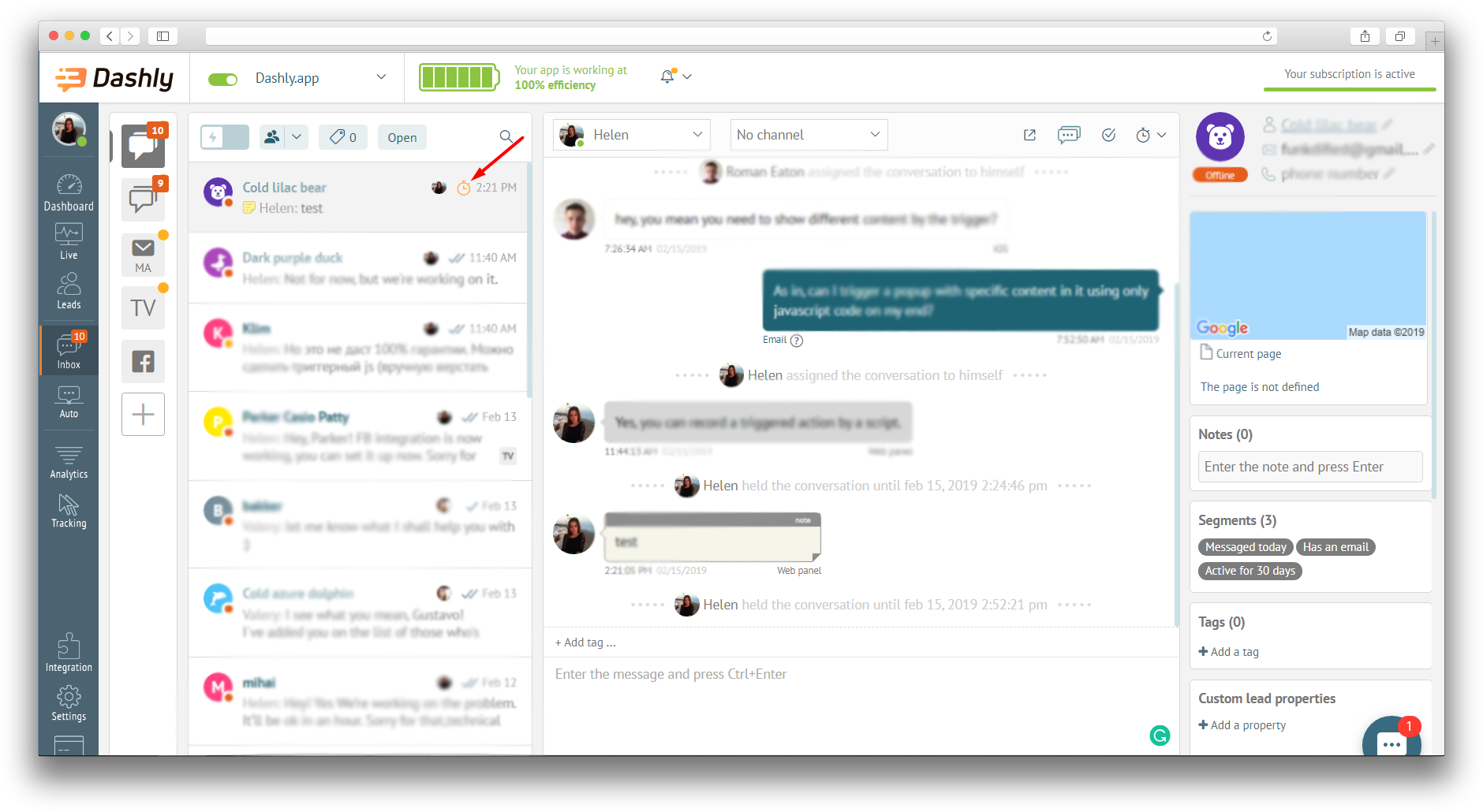 Orange clock sign shows that the conversation is open again after it was held.
Adding a note or assigning operators removes the hold time and the conversation moves to the list of open conversations. Adding a tag won't remove the hold status.
Lead card
Use all available data about the lead you're holding the conversation with to solve their issues more effectively. Here you can find all recorded information (read more about data tracking here).
You can add a note about the lead right away not to forget the important information. More about the lead card here.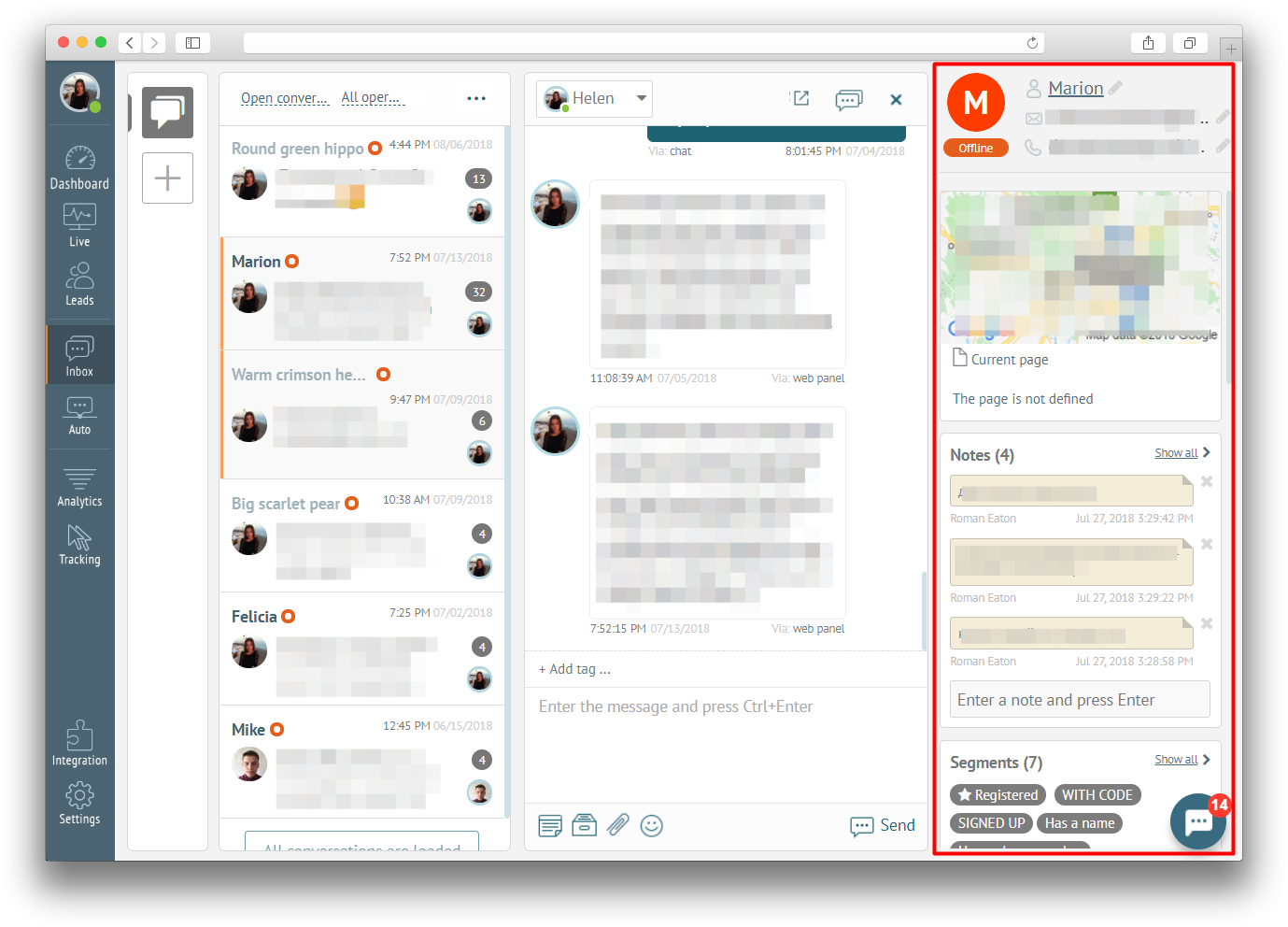 Chat shortcuts
Simplify and speed up your work in communication with your leads with the help of useful shortcuts.
| | |
| --- | --- |
| Keyboard shortcuts | Action |
| Ctrl + H | Create a note |
| Ctrl + L | Get a link to the conversation (open the conversation in the new tab) |
| Ctrl + O | Close the conversation |
| Ctrl + Q | Close conversation and remove the assignment |
| Ctrl + M | Assign the conversation to yourself |
| Ctrl + B | Remove the assignment |
| Ctrl + 1-9 | Quick answer (first 9) |
| Ctrl + S | Open saved responses list |
| Ctrl + U | Open lead card |
| Page up | Move to conversation above in the list of conversations |
| Page down | Move to conversation below in the list of conversations |
Chat slash commands
Slash commands make operators' work easier. They make it possible to send the lead to CRM or create a ticket without leaving the conversation window.
Standard commands (always available)

/user
Open lead card

Integration is needed

/zendesk
Create a ticket in Zendesk (put the ticket text after the slash command)