Segmentation works miracles and positively changes you conversion rates
Different people with various interests and goals visit your website. We should communicate with them in different ways. Segmentation will help you.
You can select and save any group of leads (segment) based on their events and properties.
Go to the Leads tab. Find the segmentation panel on the left: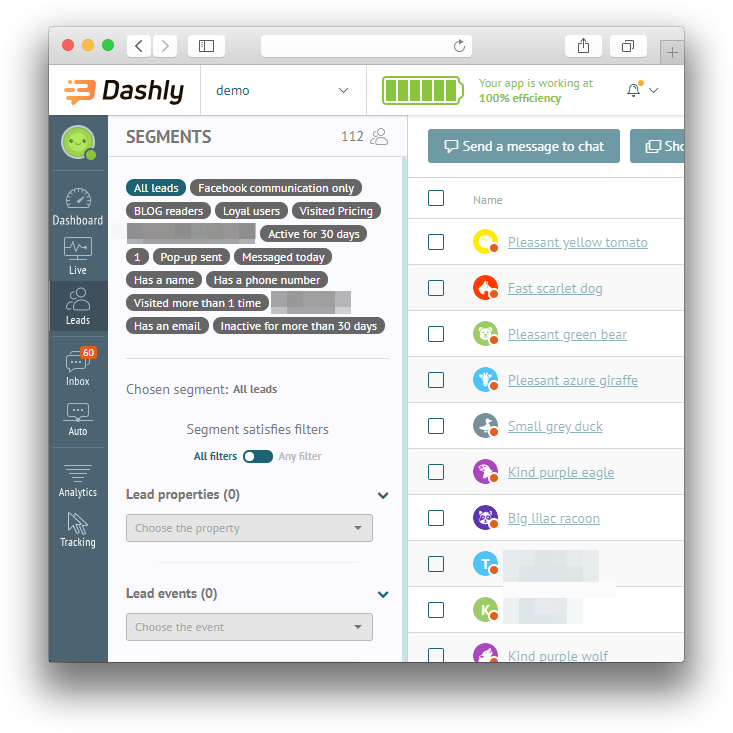 List of saved segments
There are some segments by default: "Has a name", "Has an email", etc. Clicking on these segments will allow you to see a list of leads matching the filters in this segment.
Show leads by filters

All - corresponds to the logical "AND";
Any - corresponds to the logical "OR".
Lead properties
Every lead matches some properties. All properties are grouped by sections: basic properties, UTM parameters, geography, e-commerce, CRM, User properties.
You can configure leads filtering by type depending on the information recorded as an attribute.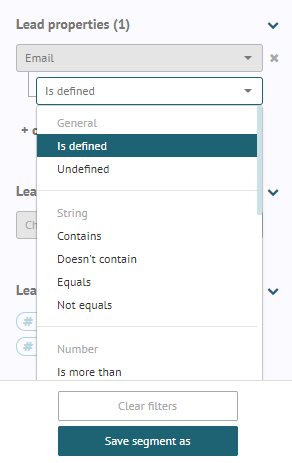 Here are some types of properties:
Is defined - shows leads who have this type of properties (for example: email defined - means that the system will show all leads who have an email).
Undefined - this type of properties is not defined (for example: the system will show all leads without email).
Number - all conditions are set by numbers (is more than, is less than, more or undefined, less or undefined, equals, not equals, in the range).
String - all text data is set here (contains, doesn't contain, equals, not equals).
Example: first domain source "contains" "test.com" means that the system will show all leads who came from test.com. If you want to exclude test.com, then you need to set "doesn't contain" filter.
Note that in "contain" and "doesn't contain" filter types you must enter from 3 to 15 symbols.
Date - here you can set date filters (is more than, is less than, more or undefined, less or undefined).
Example: "last activity is more than 15" means that lead was online on your site more than 15 days ago.
Read more about properties in this article.
Lead events
You can group by lead events ( = actions on your website) as well. You can filter events based on number of their performance (defined/not defined and number types), date of first and last event (defined/not defined and date types).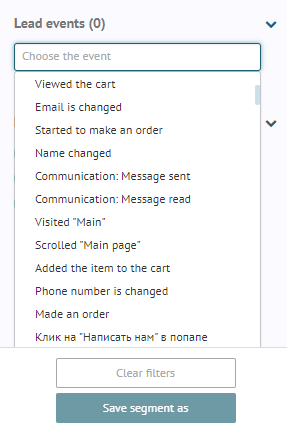 Read more about events here.
A segment can be configured each time or be saved once. If saved, you can use it when needed (for sending triggered messages, for example). To save your segment, click "Save segment".
Lead tags
Tag is a special mark you can add to a lead or a group of leads. Later you can easily find them and segment in future.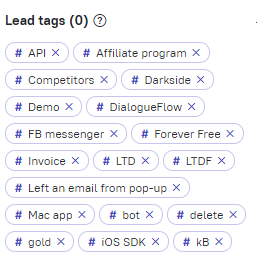 Tags differ from properties. Tags do not change dynamically and are to be set manually. You can include and exclude tags during segmentation. Read more about segmentation via tags in this article.
Defined/undefined filter type
You can select "defined" or "undefined" type while lead segmentation.
"Defined" means that one has ever done the selected event or has the selected property.
"Undefined" means that one has never done the selected event, or doesn't have the property selected.
Examples
1) You have a special offer for leads from New York. Let's set segmentation and tell all leads from NY about this offer.
Select City (as lead property in Geography) equal New York. You can select leads from different cities and countries as well. Click on "+one more property" if necessary.
If you need these leads only once, you can select all of them and send the message immediately.
You can also save this segment so that you could select it while setting auto message in "audience" step.
2) Abandoned shopping cart can be a real problem for online stores. To find all leads who added items in the shopping cart and left your website, you can set such segment and send them triggered messages.
We will search for leads who visited shopping cart (it means that they added something to it) but never got to the "Order placed" page.
Remember that sometimes you can configure one segment in different ways (depending on filtration) and get the same result.
3) Let's select all leads who have a name and an email, and who haven't been online for more than 7 days. Let's send them a reminder. Select the following combination of property (email defined) and event (session started more than 7 days ago).
Ready! You can lead them further down the funnel.
Segmentation allows you to set your online marketing in the most flexible way so it will be easy to correspond to every single lead's interests. Find more examples in our blog.