You can use conversation statistics to analyze the effectiveness of your support team
Check the report of a whole department or any operator individually.
It is made to optimize work of your support service: change working hours, hire more operators, etc. Team performance report is available in Analytics section. Let's define basic concepts and check how it works.
Basic concepts
Started conversations are initiated by leads via chat or when auto messages are replied.
Conversation is considered as closed when operator solves an issue and clicks on "close conversation". When the conversation is closed, there is a timeout set before the conversation is defined as solved. If a lead contacts you before the timeout expires, this conversation will be opened again. If this lead will contact you after the timeout passes, then a new conversation will be created.
Unanswered conversation is without any reply from an operator. If operator replies to a conversation and then stops the communication, then this conversation won't be considered as unanswered, but it will be shown in the list of open conversations.
Conversation is considered as missed when operator replies to a lead but they never read this reply.
Let's see what metrics are affected.
You can check the whole team statistics for a certain period of time or evaluate work of a particular operator. Since support is a team work, we would recommend you to begin with general statistics and then move to the individual one.
We would also advise you to pay attention to the following metrics while analyzing the support service.
Open and closed conversations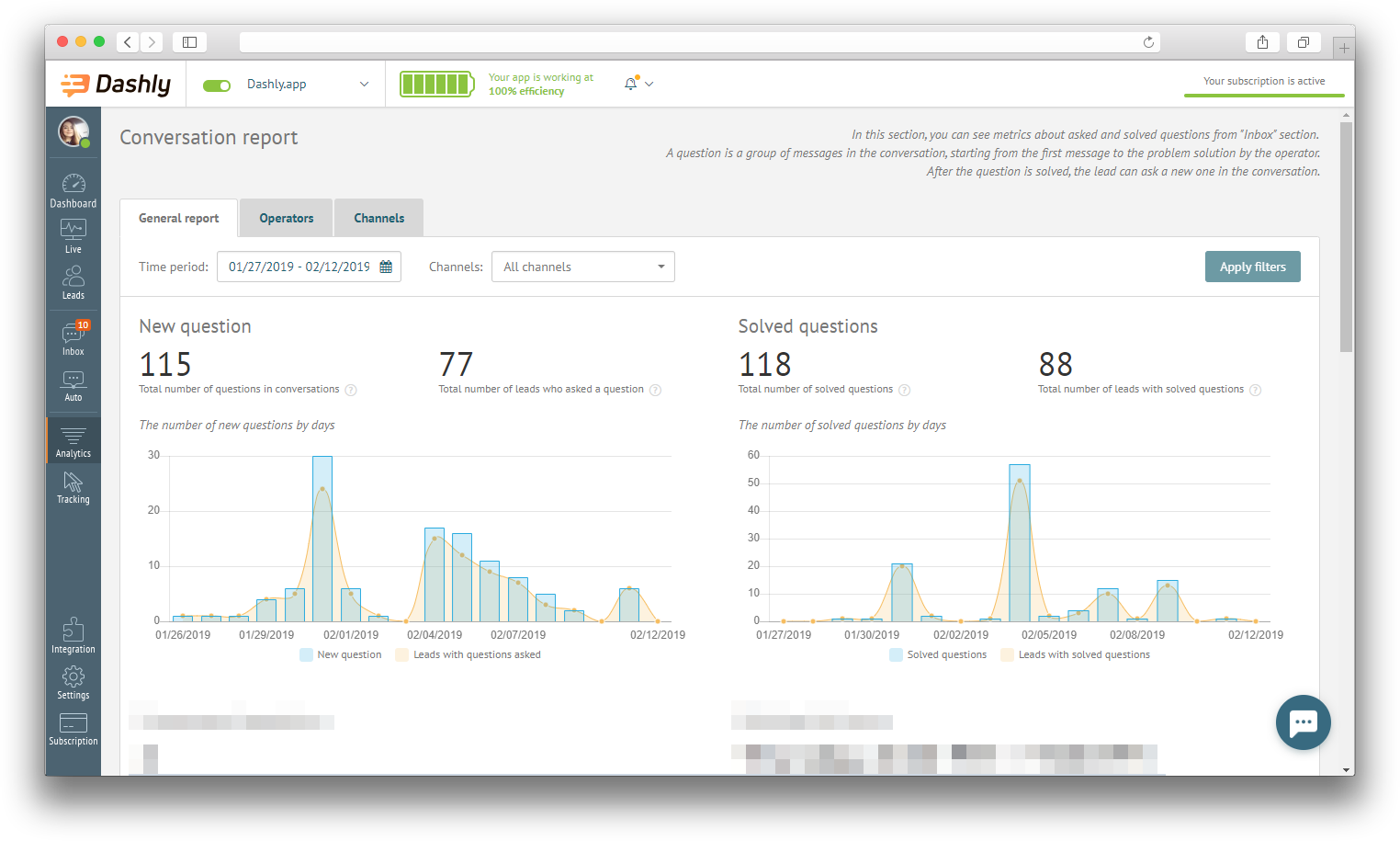 Number of open conversations
On the one hand, increasing number of conversations is good for you. It means that feedback is always given. Leads are interested in communication with you and ready to solve issues instead of leaving you.
On the other hand, this increasing number of conversations means that leads face some issues. Listen to what they say, what they ask you and complain about. You will make your future clients happier during this communication. And improve support processes.
Furthermore, you can see the number of open conversations sorted by days. It will help you to find days with maximum and minimum load, and propably change the shift pattern of support team.
Number of leads who start conversations
Every lead can start unlimited amount of conversations. A perfect situation is when a conversation solves one issue only. Therefore the number of opened conversations will always be bigger than the number of leads. Estimate the ratio. If you see there are 50 conversations but only 2 leads, pay your attention to this. Check whether such talkative leads are bots. See what questions they ask you. If someone contacts your support team just because they are bored, think about how to protect support service from these messages (hiding chat for this particular lead will help).
Number of closed conversations
This metric will show you how many conversations can be handled by your support team. This number should coincide with the number of open conversations. If the gap between these two numbers is big, you need to optimize the work of your team. Metrics given by Dashly will help you to find out the right way for optimization (see the info about this below).
There is also an opportunity to check the number of closed conversations sorted by days.
Number of leads with closed conversations
This number shows how many leads are now happy with their solved issues. If this number differs from the general number of open conversations, you should pay your attention to this. In addition to the above mentioned options, leads often initiate a lot of conversations when operator closes the solved ones. However, those who ask a lot of questions may be the most loyal customers. Anyway, always check what happens with the number of open and closed conversations.
Team performance report (Performance metrics)
Workload by hours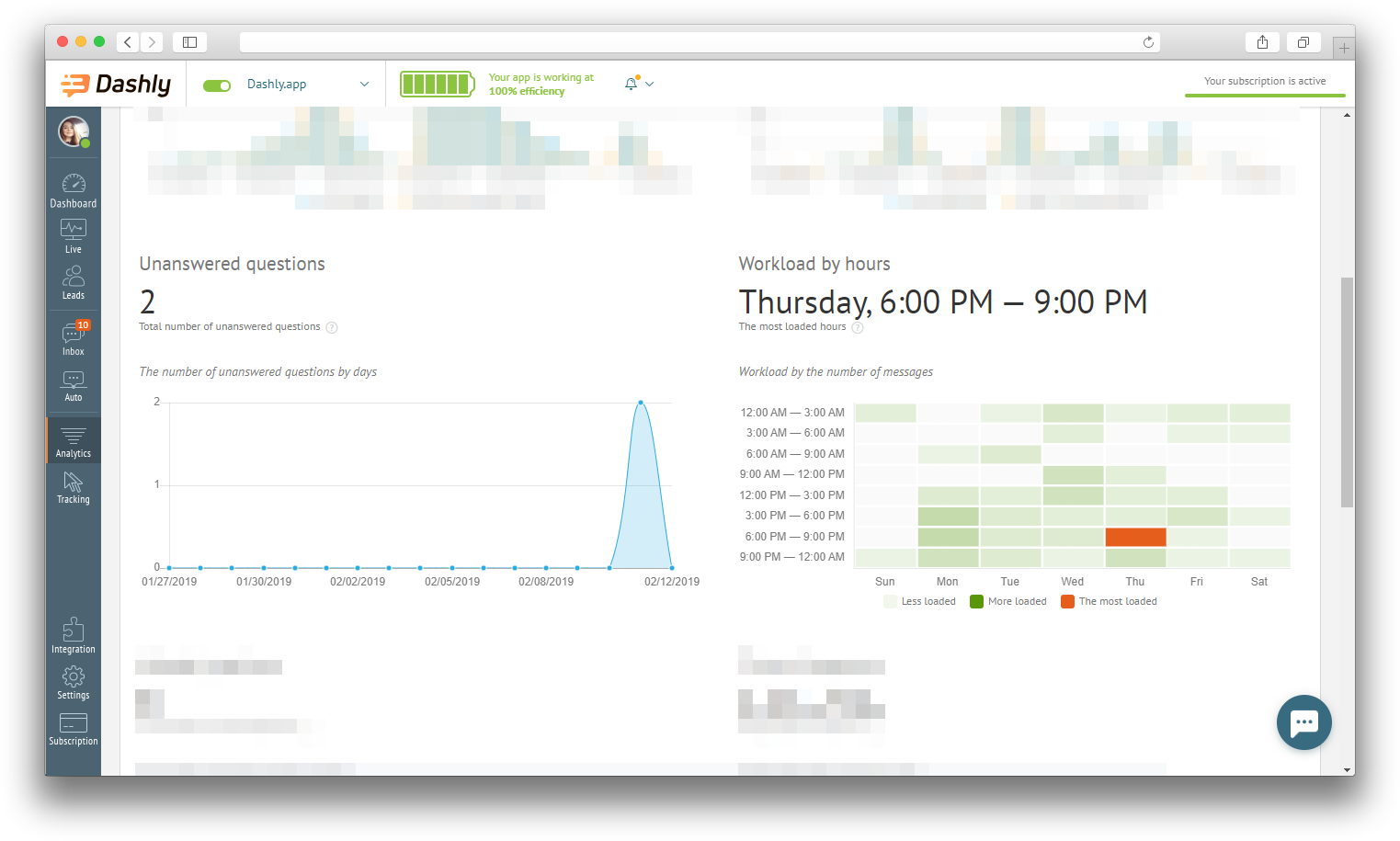 You can check the workload of your support team by hours. It will help you to set the shift hours in the best way.
Time of response
Nowadays time of response is not considered as advantage. It is a must. Leads get used to speed of communication, so they are not ready to wait for too long.
Do not rush to ask your support team to close all conversations within 12 hours. Remember that the balance between response rate and quality of support service is very fragile.
Number of messages in questions
If it is possible, try to solve issues with fewer messages.
Unanswered and missed conversations
If workload of your support team is too high, it may lead to unanswered and missed conversations. It is alarming when these numbers are growing.
The conversation is considered as missed if operator responds but the lead doesn't see it. In other words, operators do their job but it no longer makes sense. Pay attention to the time of response to reduce the number of missed conversations.
Dashly does its best for operators to be on time. If a lead contacts your support team via chat and somehow doesn't see the operator's respond, the communication will be sent to lead's email. The conversation will be considered as missed if the lead doesn't read this email. You can check the statistics of missed conversations on any particular date, week, etc.
Unanswered conversations are the ones without any respond. This situation is not acceptable.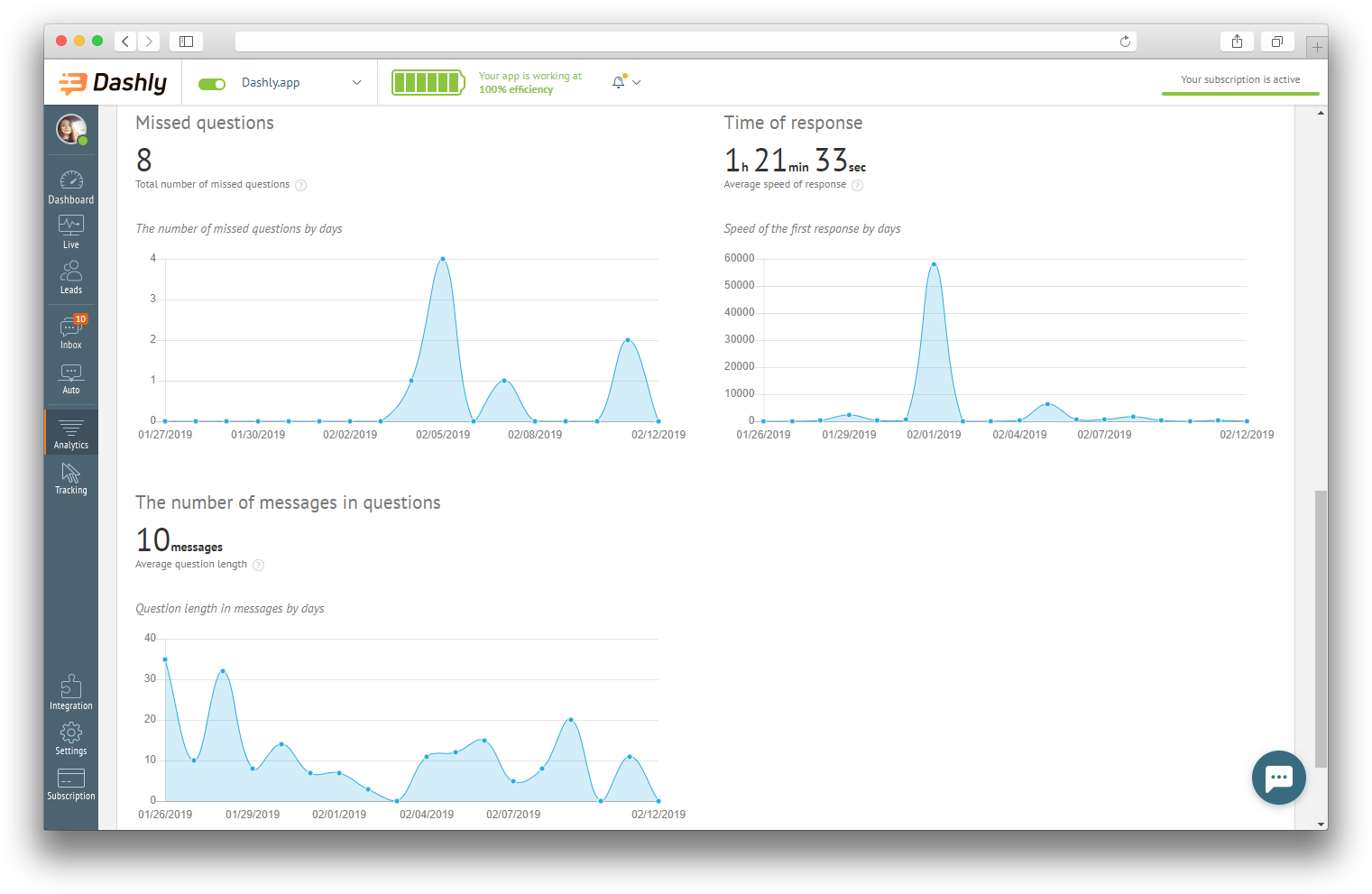 Operator's individual metrics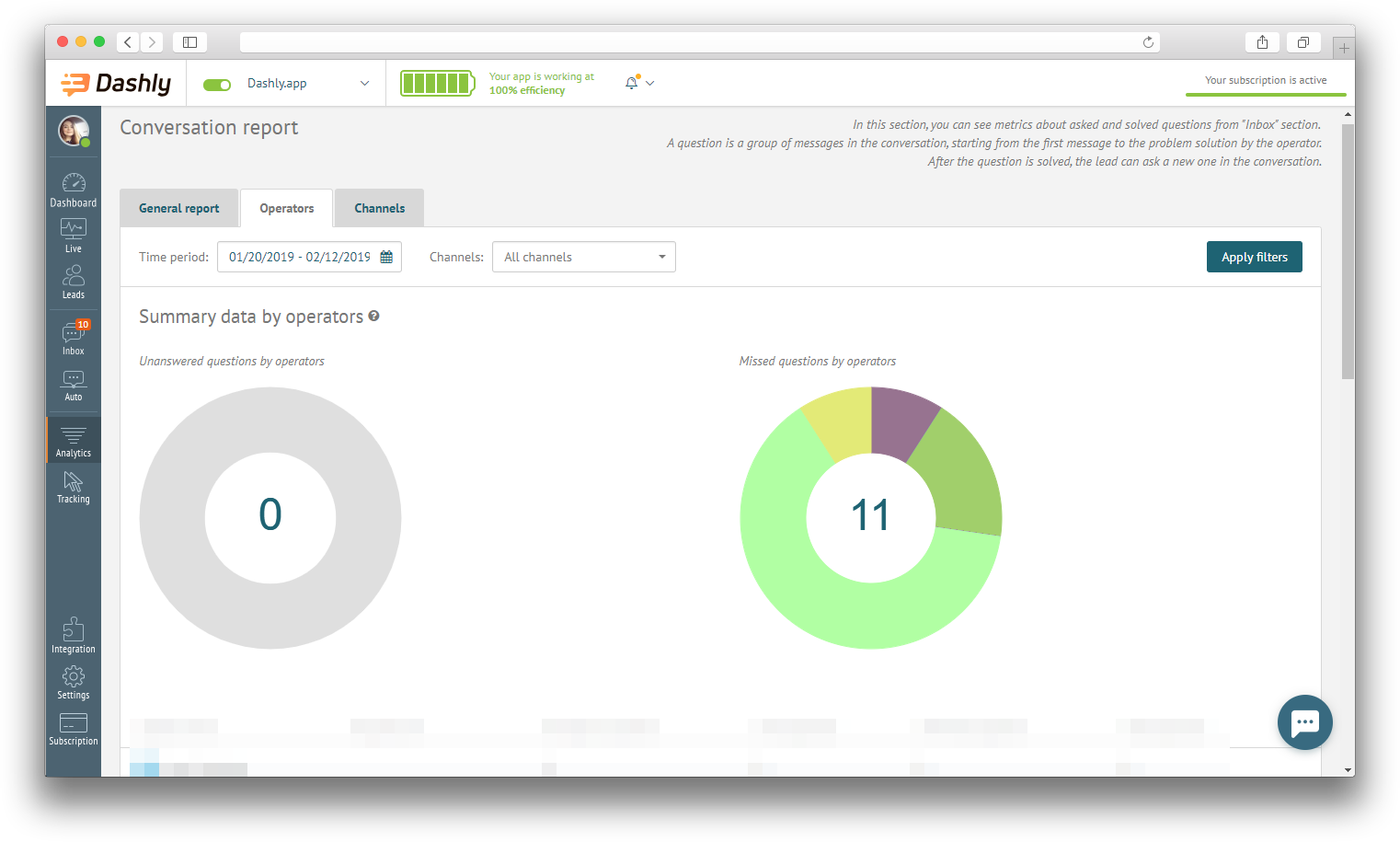 It's hard to find out what to improve without any metrics. You can intuitively guess who the best support agent is. Have you ever wondered what makes them successful? Track the activity of each operator to identify your best agents and help others work better.
The response time shows how much effort each operator puts in solving issues in conversations. Ask yourself: "Who solves issues most effectively?"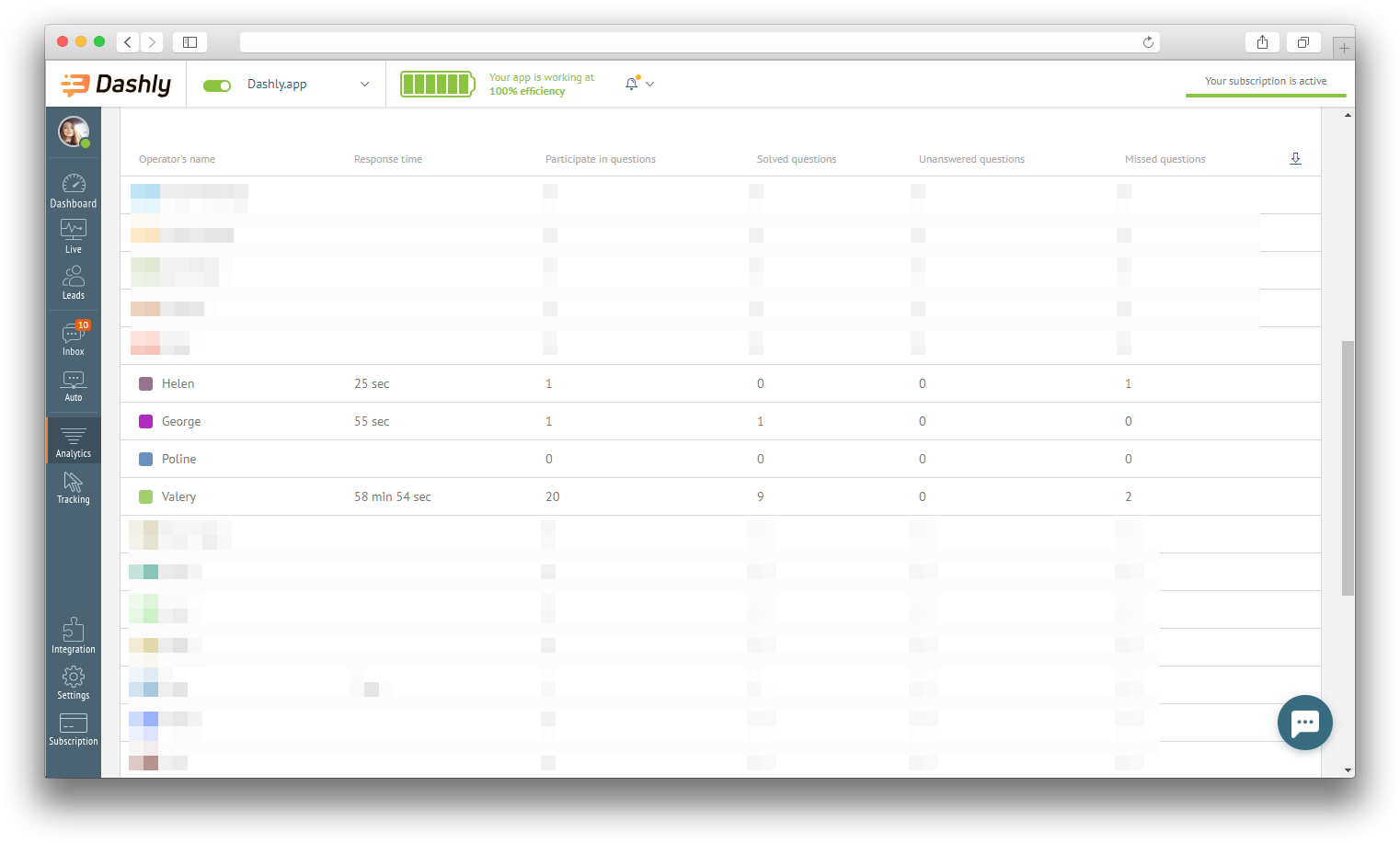 The number of active and closed conversations will tell you about the work done by an operator. Pay your attention to whether an operator copes with the number of assigned conversations. Can they manage all conversations easily or some of the conversations get missed?
The number of unanswered and missed conversations indicates that operator faces some difficulties. Most probably they can't manage the workload. Think about how to improve their effectiveness.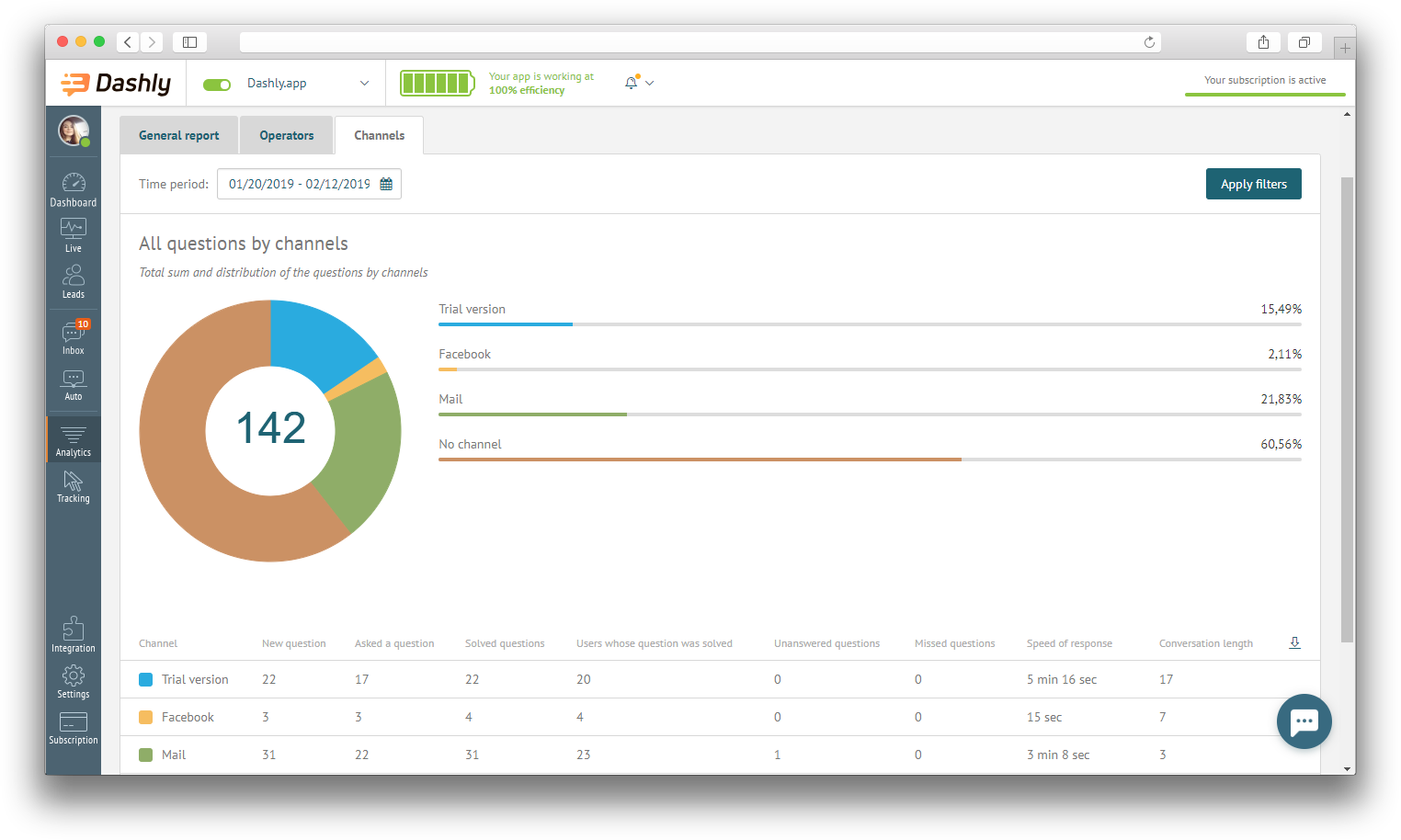 Analysis based on numbers is always important. With conversation statistics you can analyze the performance of your support service and each operator individually. This can improve work of the whole service and make your leads even more happier, so that they will thank you with higher LTV.