Configure email forwarding to recieve all messages that come to your email inbox in Dashly
Your customers may send a mail to your company's email address (for example, support@mycompany.com). These mail can be automatically duplicated into Dashly Inbox. You can reply to these mails straight from the Inbox. That's how you can handle all communication from one place - Inbox section.
You can create different channels for forwarding emails from different addresses - look here how to do it.
Set up the forwarding is easy. Just follow the steps below:
1. Copy the technical email. 
Go to Settings and copy the address from the "Email forwarding" field.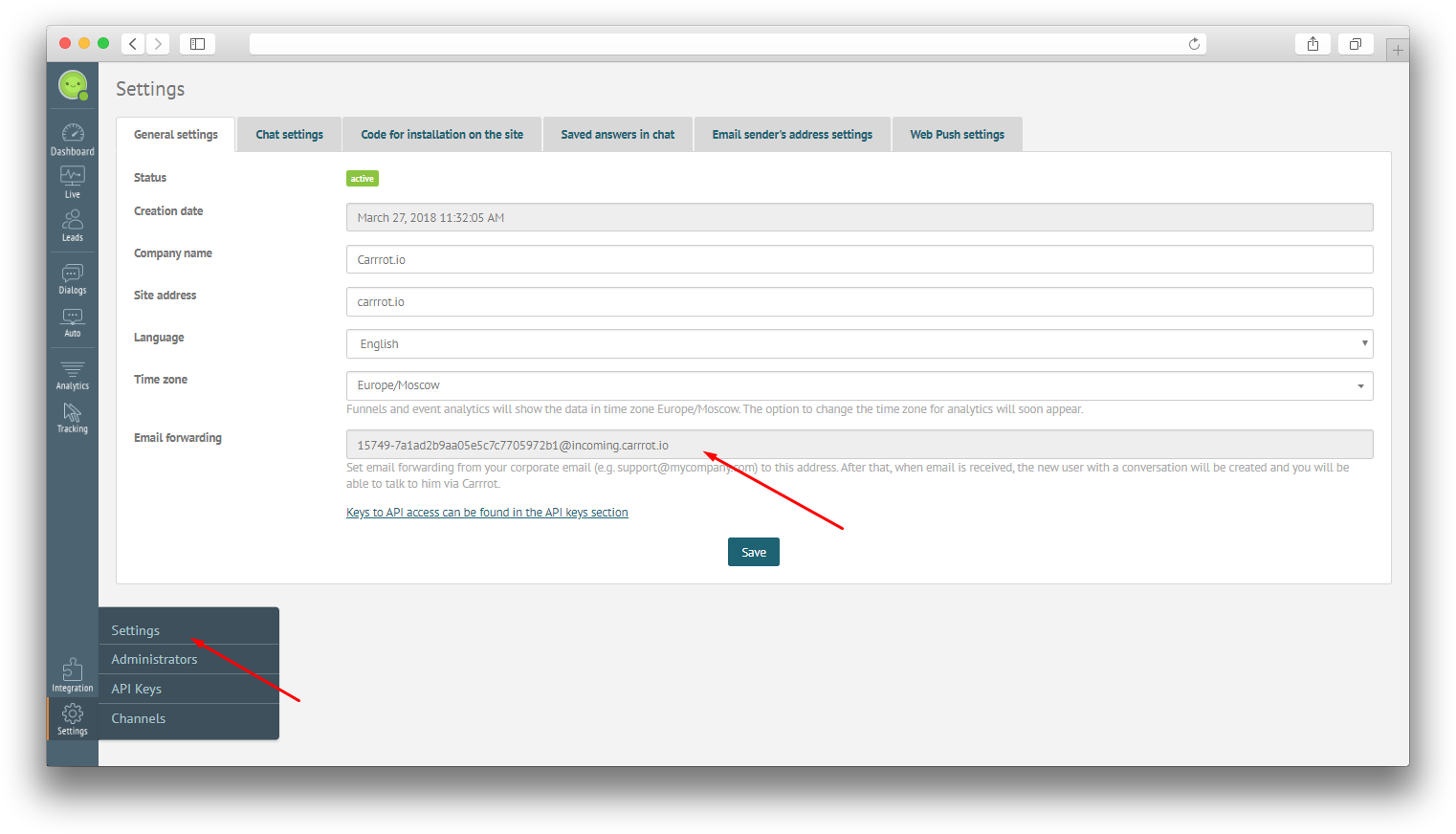 2. Set up the email forwarding in your email provider.
Enter your technical email to the email forwarding settings in your email provider. The examples of Gmail and Outlook email forwarding settings are below.
NB: don't forward emails from the address of operator who receives the email notifications about the updates in conversations to Dashly.
The example of the email forwarding in Gmail.com
Go to the Gmail setting (top right corner)

Go to the "Forwarding and POP/IMAP" section. In the "Forwarding" field, add the technical email you've copied from Dashly admin panel:

Wait for the notification in the "Inbox" section and confirm that it is your email.
After the email confirmation, check the box "Forward a copy of incoming mail to" and save changes.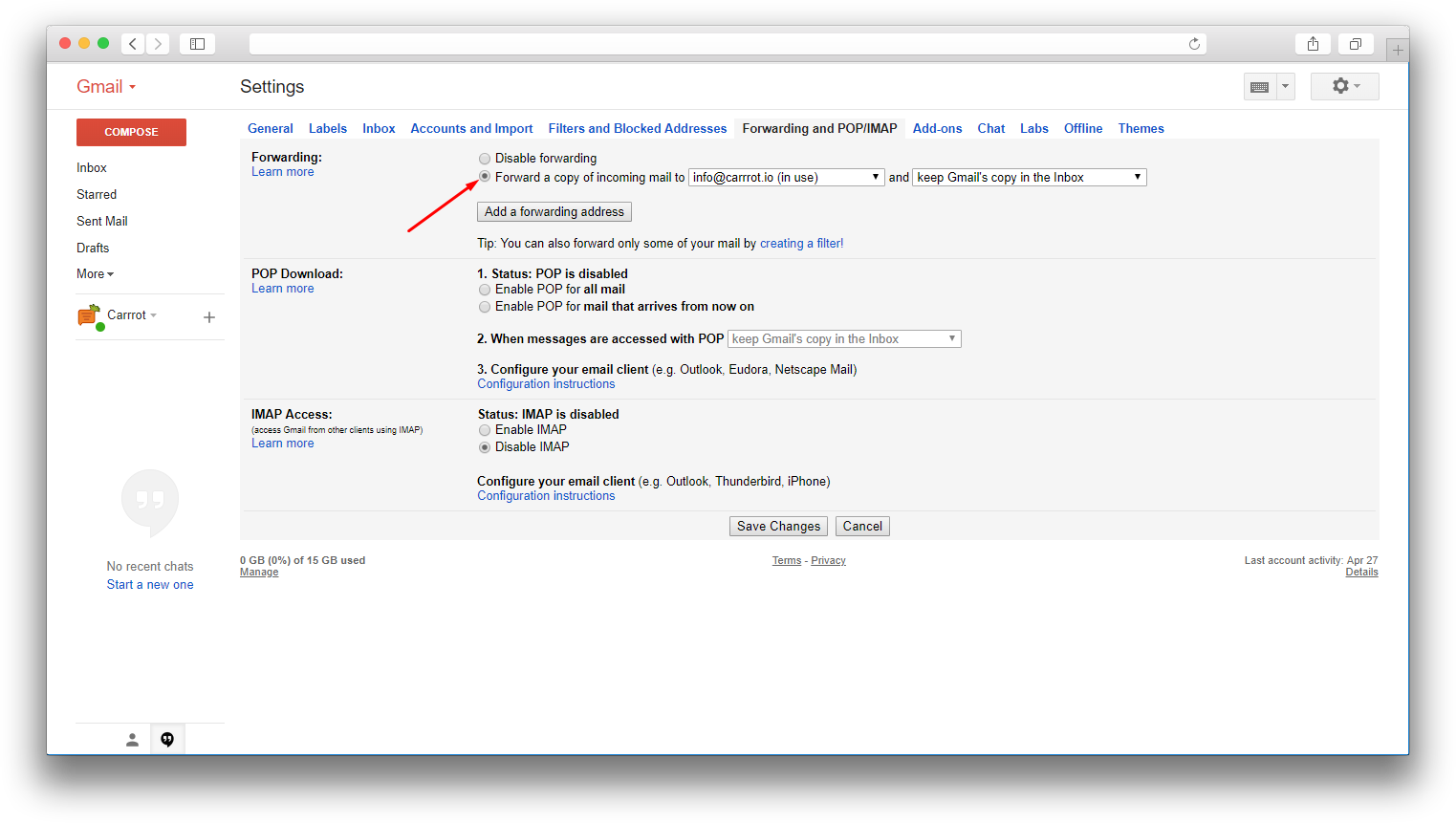 The example of the email forwarding in Outlook.com
Go to the settings in Outlook mail and choose "Options" section

Go to the "Forwarding" section

Choose "Start forwarding" field. Enter you technical email and check the box "Keep a copy of forwarded mails" if needed, then press "Save".
Now your emails from company email will be duplicated to Dashly "Inbox" section. You can answer them via Dashly interface.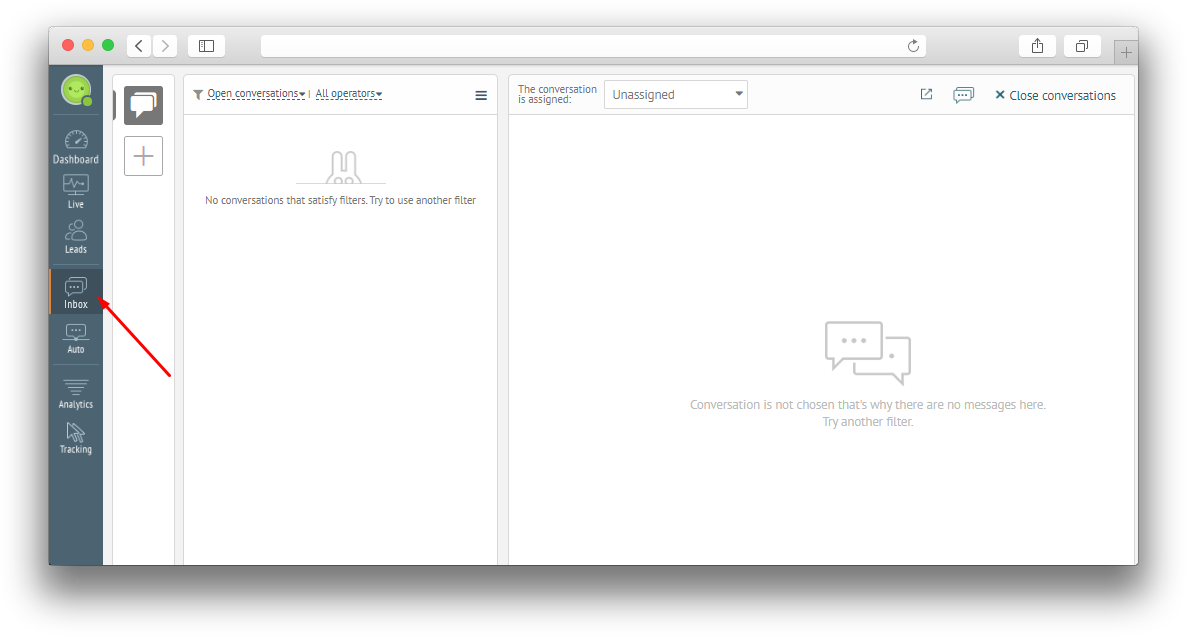 Individual email domain connection
Emails sent via Dashly are sent from support@app.mail.dashly.io by default. If you want to send emails from your domain address, add this extra option. This option is paid additionally every month. Contact our team to get your personal domain address.
When you connect the module, we'll give you DNS settings. Emails will be sent from support@mysite.com, where mysite.com will be your domain.
Contact us to connect your domain. We'll send you an instruction how to do it.
NB: It is better not to connect you main domain (example.com), but another one news.example.com.
An individual domain is used as a mask for the second part of the sender address (after @ sign). Operator's name (in a manual message) or default name (in auto message) will be substituted to the first part of the address.
If the lead answers your mail, then the reply will get into Dashly, not to the address in the sender's address field.