Create emails, pop-ups or chat messages to communicate with your users automatically
Go to the Auto section -> Auto messages and on the top right corner click on "Create new auto message".
💡 Content
Choose the type of Auto message you want to create:
Chat message
Pop-up
Pop-up in a pop-up builder
Email
Webhooks
JavaScript
Then you can choose a template you like or create a design yourself ("Create a message from scratch"). You can then insert content from a template we have or from your own template. By the way, you can save any message as a template and use it afterwards.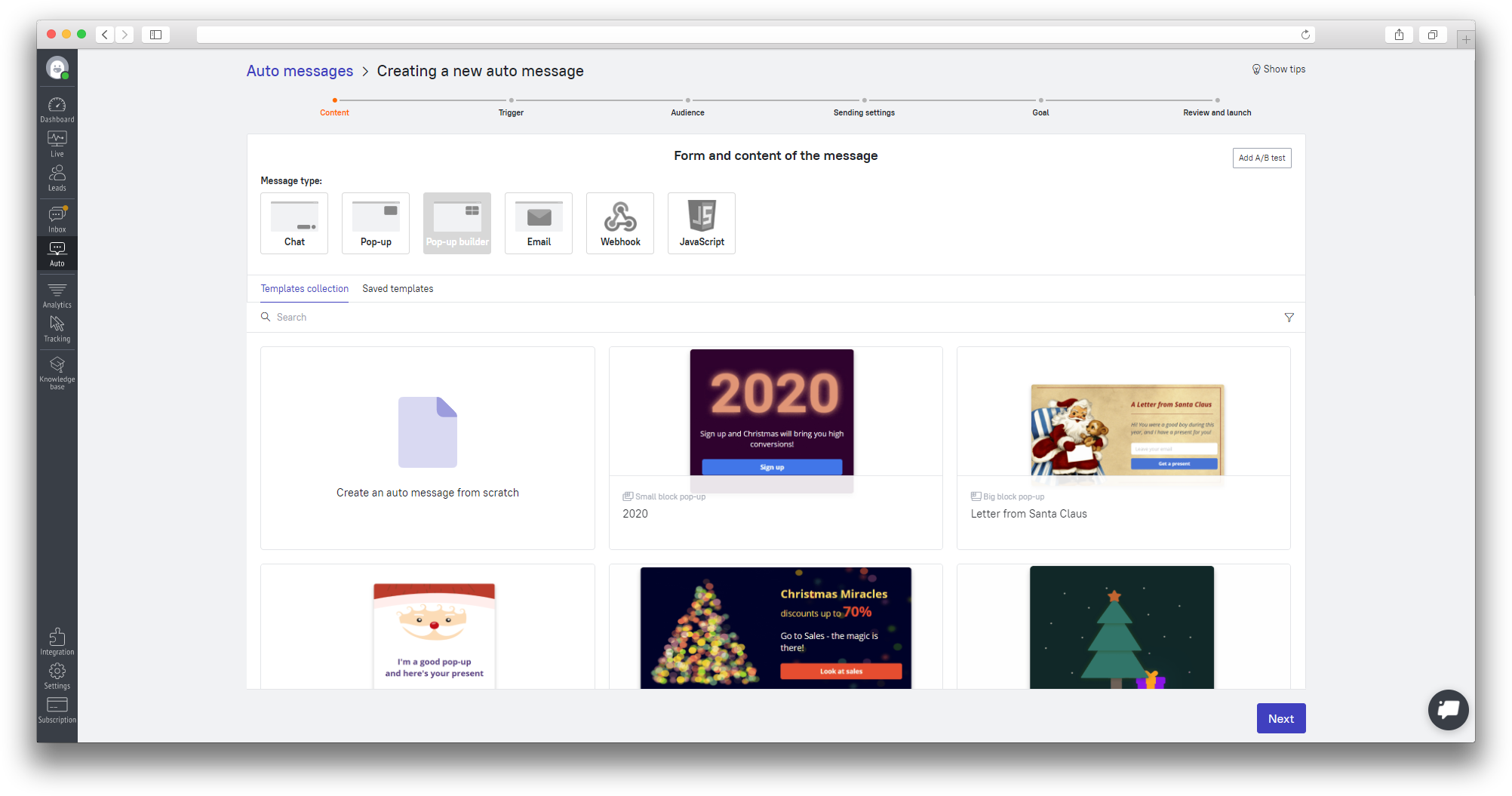 Webhooks — method allowing sending HTTP POST-requests to an URL at necessary conditions occurrence. Find more information about it here.
JavaScript will help you with the following:
Show a pop-up with unique design;

Social media retargeting;

Track events in Google Analytics;

Insert forms into site;

Personal references in text of your site, etc.
More details are here.
If you already have a ready template in some other service (like MailChimp), you can easily send it via Dashly.
Create and save an email in any service you like
Find HTML code and copy it (press "Export as HTML" in Mailchimp)
Open the saved file via Notepad and copy the text
Insert the text to this website and press the Convert button. This will help to prevent a template from mistakes on some email servers
Copy this text and paste in into Dashly (Auto message -> Create a new auto message -> Сontent -> HTML)
Don't forget to add "Unsubscribe" link
You can also add an A/B test to any message you want
💡 Trigger
A trigger is any user action (event) that initiates an auto message sending.
❗ Important: With several triggers, the message will be sent if ANY trigger works.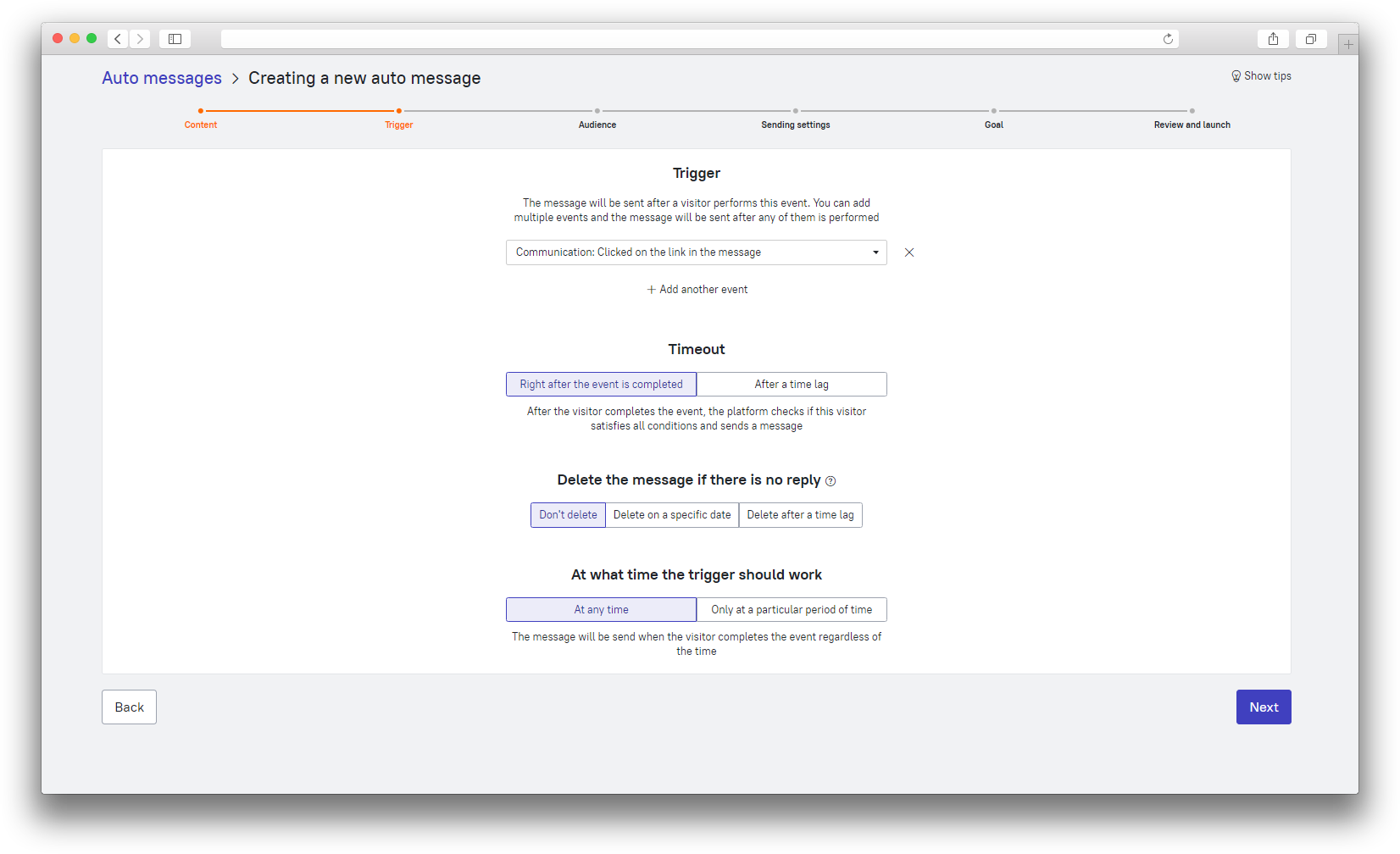 Trigger
You can create any event that will be a trigger using our Tracking master. If you need to track user activity that is recorded on your backend (like sign up, log in, an order made, etc.), look for the details here and here.
Timeout
Choose a sending timeout after the event is completed: right after the event is completed, or after a time lag.
Delete the message if there is no reply
If you launch some temporary campaign (like New Year's or maintenance works on your website), you can set a time when this message will be stopped for sending and deleted for users who didn't reply to it (clicking on the link or pressing the button is also counts are a reply).
This message will stay in the Lead card in Conversation history for the operator to see if it was sent or not and have a conversation depending on that.
❗ Important: you can configure this condition only for pop-ups and chat messages.
At what time the trigger should work
Set when the message will be sent: at any time or only at a particular period of time.
This configuration is needed when you know that after your message users will need to contact support.
💡 Audience
Then you can limit the audience who will see the auto message. You may not be going to address every lead who performed the trigger event.
On the Audience step, select leads you are going to send this message to.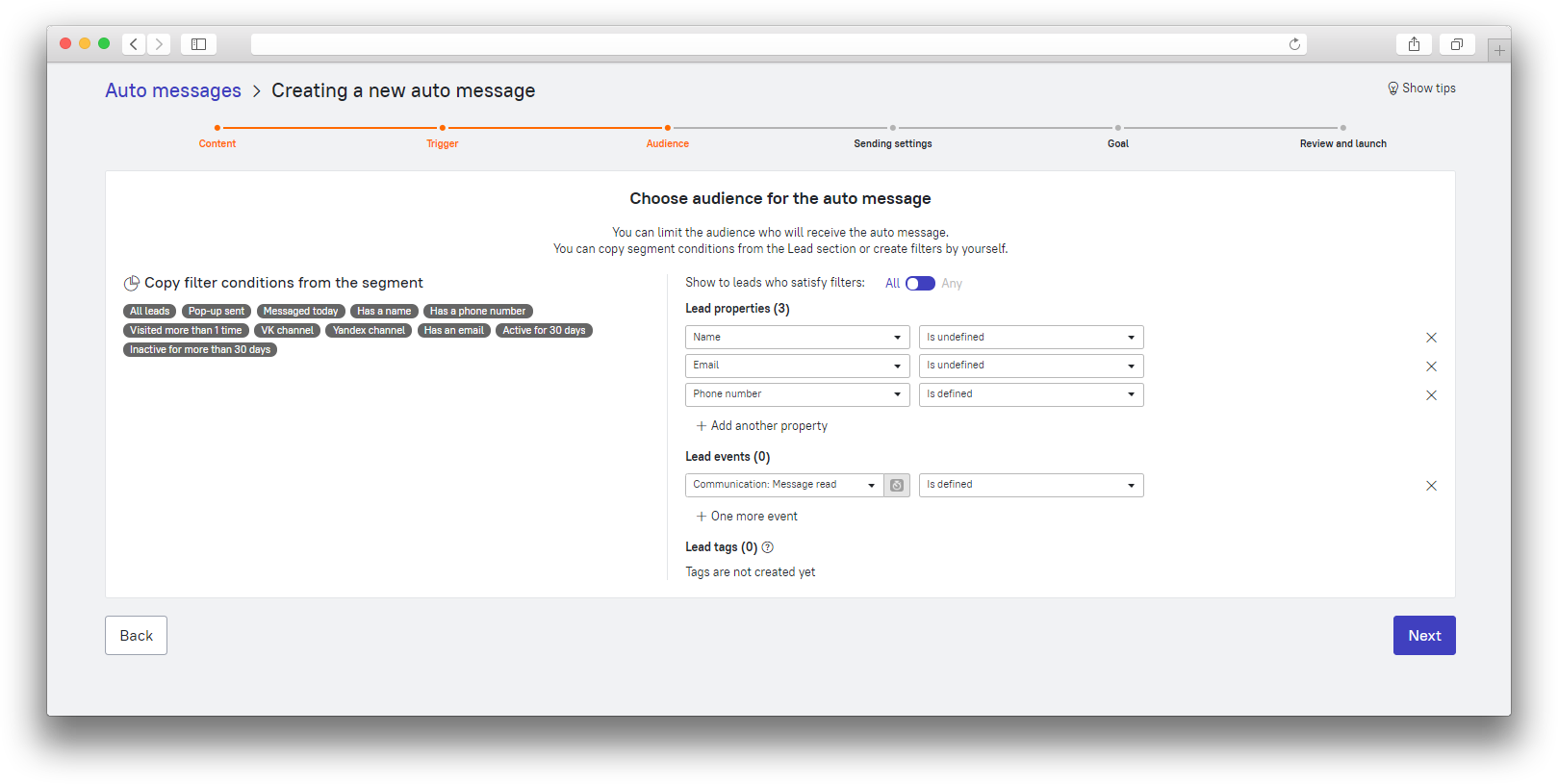 Show to leads who satisfy filters
"All" equals logical "AND". In other words, all conditions must be met.
"Any" equals logical "OR". In other words, if one filter (or all of them) is met, the lead will match.
Lead properties
Indicate properties leads must satisfy.
Lead events
Events that leads did before the triggered event.
❗ Important: If an auto message has a delay in sending (you may set it on "Choose the trigger" step), then events and properties will be reviewed after this time period: triggered action - N-time period - lead filters are checked.
On the left side you may see the segments that you have. In this case you can just choose the needed one and properties and events conditions will apply automatically.
💡 Sending settings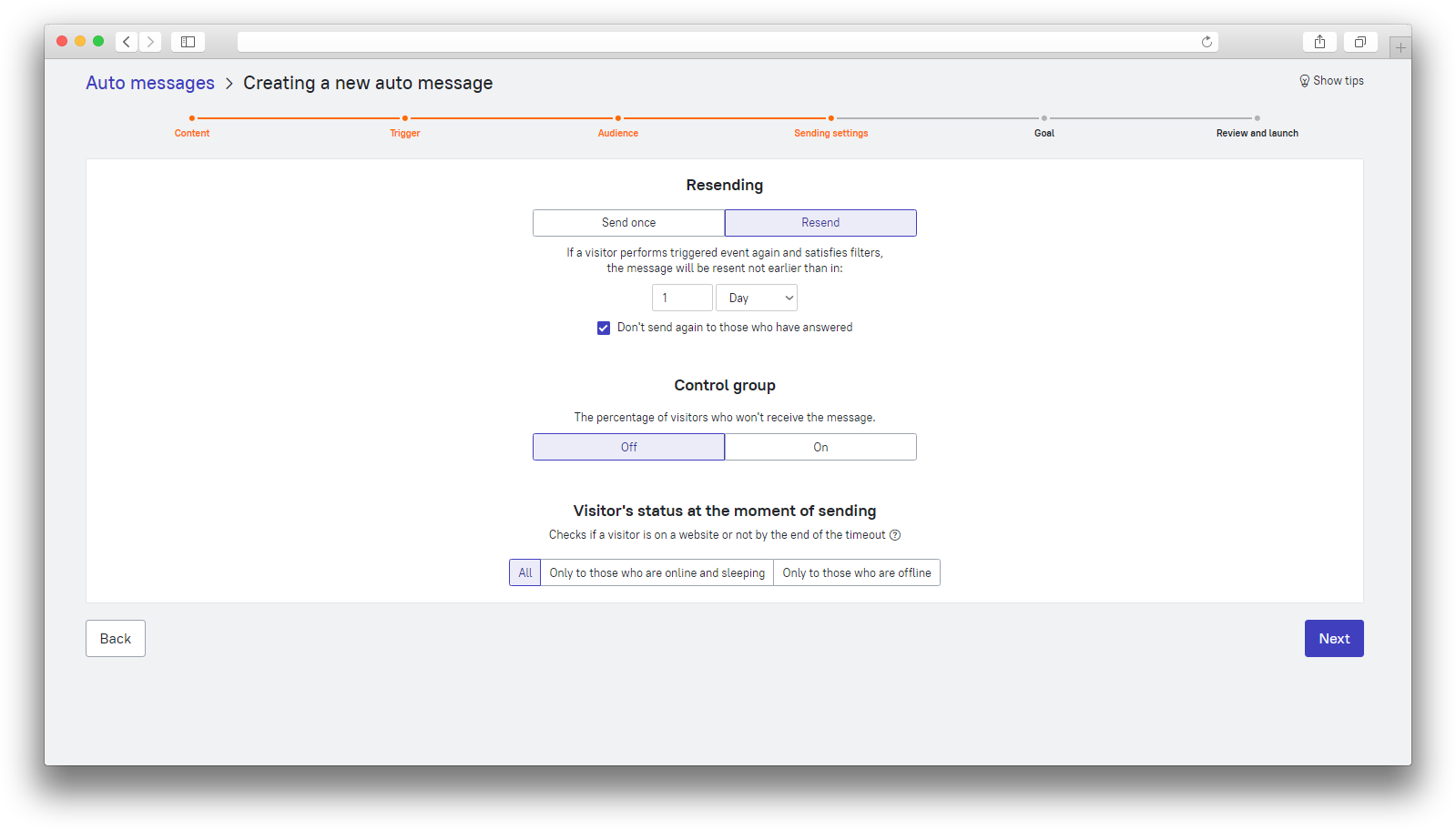 Resending
Your auto message can be sent only once or several times after some period of time. Auto message can also be resent again only to those leads who didn't answer.
❗ Important: click on the link, button click or filling the field is counted as a "click on the link", not as a reply for a block pop-up.
Control group
The control group is used for experiments on how communications affect leads' behavior. It is a percentage of people who fall under the sending conditions, but will not receive the message. Such leads will be selected randomly.
Visitor's status at the moment of sending
If a pop-up or a chat message sends when a lead is not on your website at the moment, this lead will see this message next time, which is not good in some cases. That's why you can send messages depending on your leads' status, for example to those who are online or sleeping only.
💡 Goal
Select a goal you want to achieve with this message. Read more about goals in this article.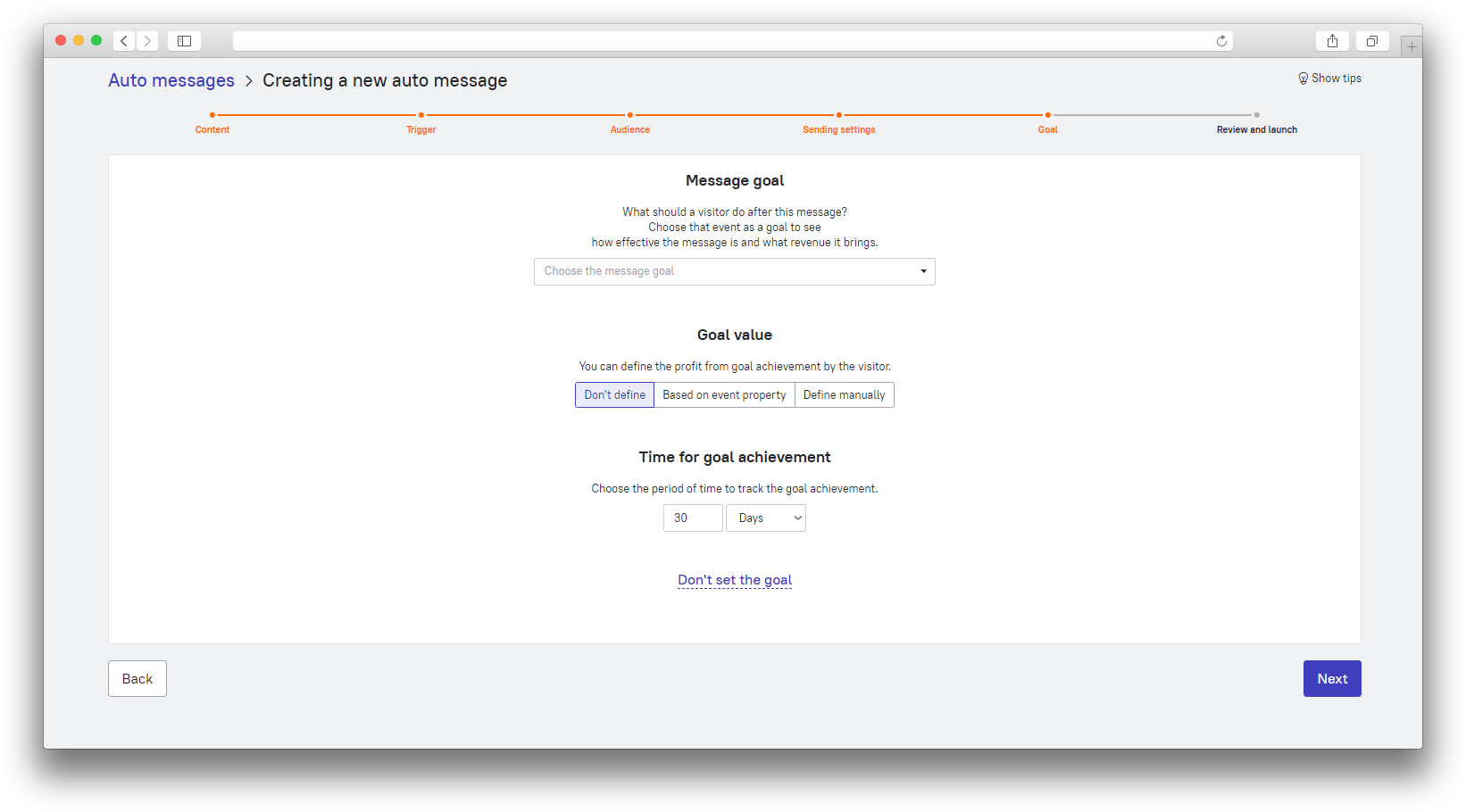 💡 Review and launch
Check your settings and enter the name for this auto-message. You can also add a message to a specific folder so it will be easier to find it later.
Events for message sequences
To create a sequence of messages activate custom events for every message. After that you'll be able to choose this event as a trigger for your next message.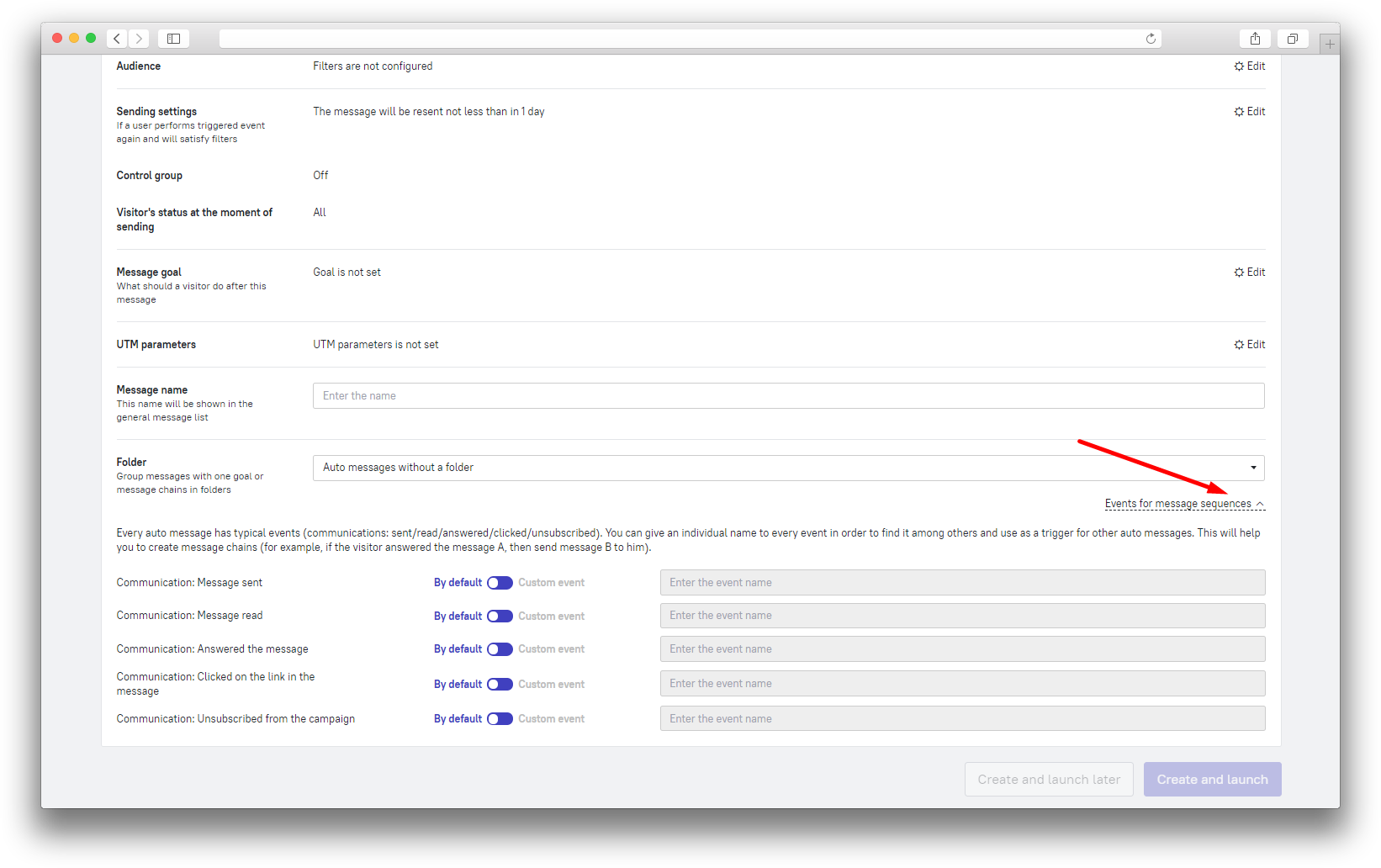 Click "Create and launch" if all settings are correct and you want to launch it right now or click "Create and launch later".