How to create, configure and get the maximum profit of the Knowledge base
Knowledge base articles will help your agents to answer frequently asked questions in one click, allowing them to pay more attention to more complicated questions. Using the Knowledge base increases answer speed and your customers' happiness - it will definitely affect your conversion rates.
Connecting and setting your knowledge base
You can connect Standard knowledge base on any paid plan. To lift the limits up, you can connect Knowledge base Pro module. Its monthly cost will be added to your plan.
Here is the difference between a Standard and Pro Knowledge base?
| | | |
| --- | --- | --- |
| | Knowledge base Standard | Knowledge base Pro |
| Max amount or articles | 30 | Unlimited |
| Amount of categories | Unlimited | Unlimited |
| Domain | Dashly or your own domain | Dashly or your own domain |
| Adding your custom logo | Yes | Yes |
| Access to robots.txt | Yes | Yes |
| Article indexing by search engines | All articles | Choose articles as an exception |
| Adding Google Analytics Counter | No | Yes |
| Disabling the "We are using Dashly" caption | No | Yes |
| Access to editing knowledge base articles for every team member | Yes | Yes |
| Sharing articles from the Inbox | Yes | Yes |
You can find the Knowledge base on the side menu or using this link.
Your Knowledge base is located on a separate domain, so you can put a link to it anywhere on your website or just share your knowledge base articles with your visitors (read about the easiest way to do it below).
You can find Knowledge base settings in the upper right corner of your knowledge base.
Default settings: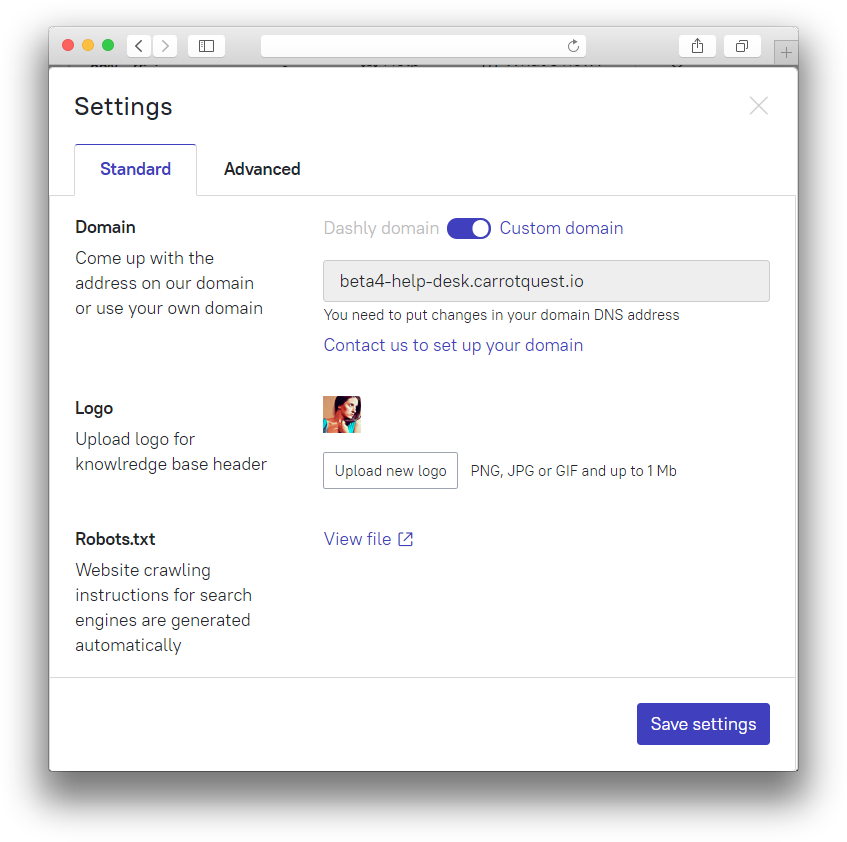 You can set your own domain or use the default one. Default Knowledge base domain looks like: appXXX.dashly.help. XXX is the number of your Dashly app. To change your knowledge base domain, write us in chat and we'll help you.
Important: If your knowledge base domain is different from the one your Dashly code is installed on, then the users who are visiting your knowledge base won't merge with the ones on your website, which will cause an increase in a lead count. We recommend connecting a subdomain of your main domain.
Add your logo that will be displayed in the upper corner of your knowledge base.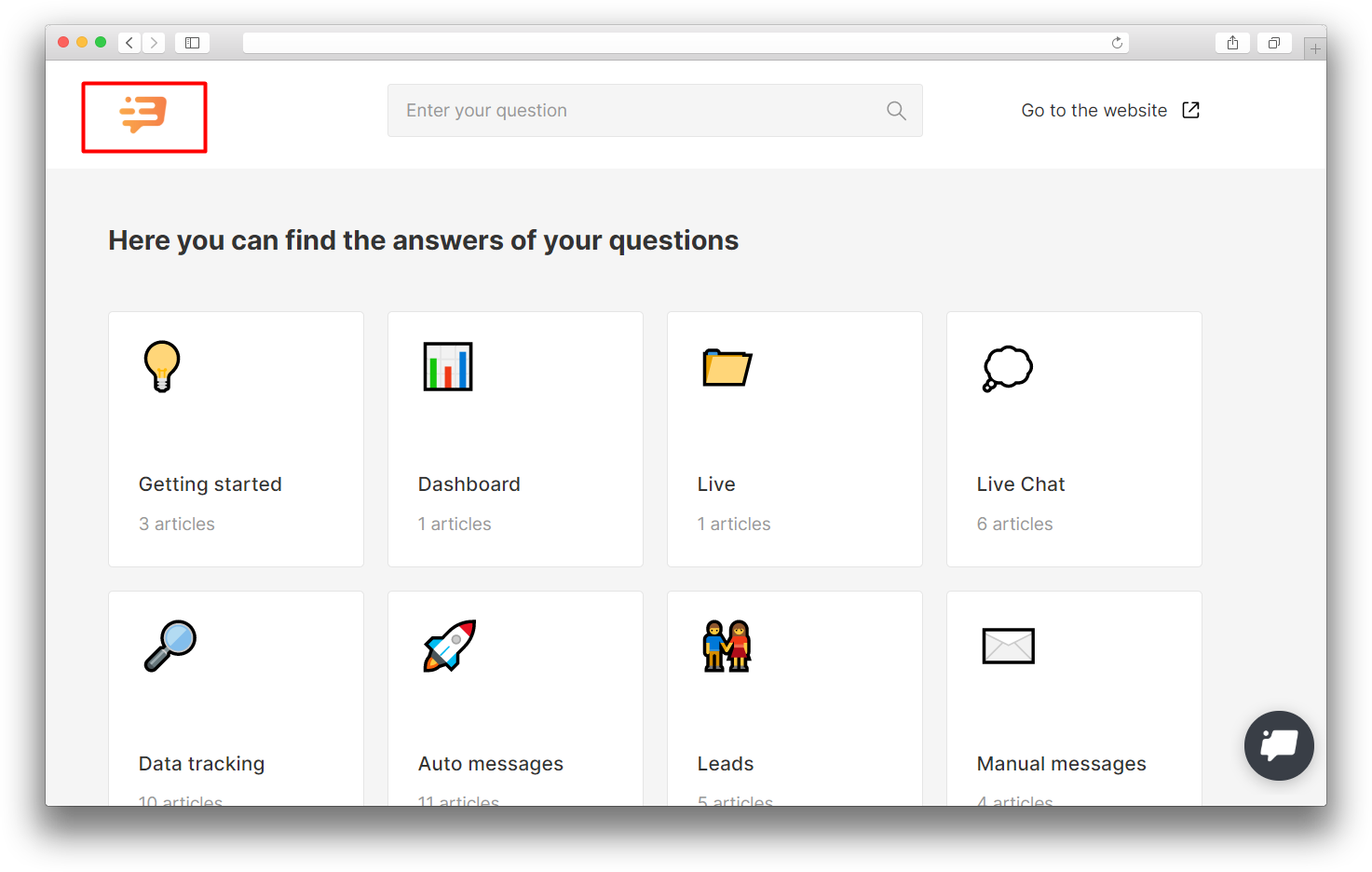 The color of URLs corresponds with the color of your chat widget (which you can change in the Settings section).
You can also read robots.txt to learn how your knowledge base is being indexed in the search engines. You can't edit robots.txt, but you can add separate articles as an exception in the settings of each article (on the Pro module).
Advanced settings: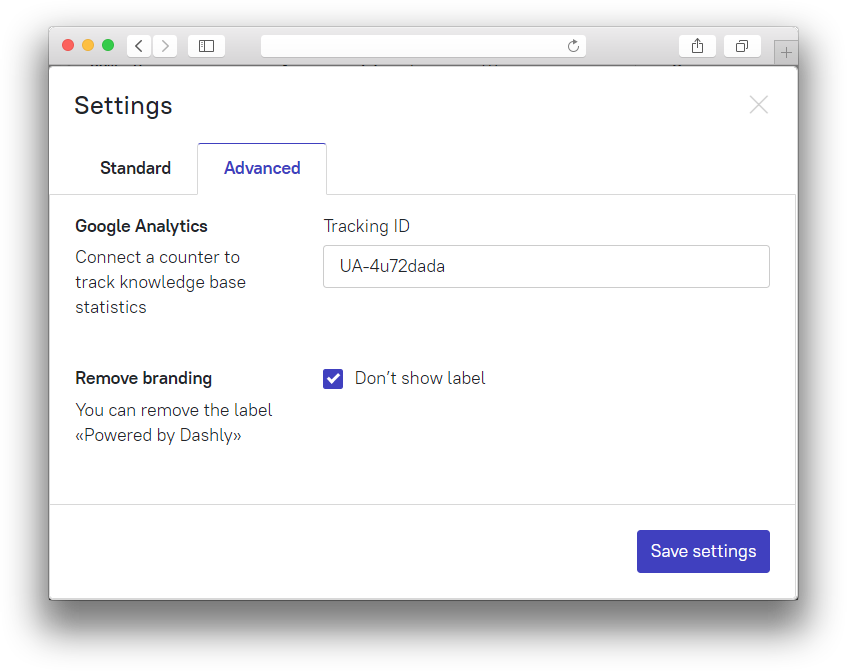 Add Google Analytics Counter to analyze the effectiveness of your articles. This way you can track page visits, conversion rate into a desired action and other metrics that will help you understand how actively your customers use your knowledge base and how it helps them to deal with your service.
You can also remove the "Powered by Dashly" caption displayed in the lower section of the knowledge base.
All of your team members, including agents, have access to editing your knowledge base because we believe that people who communicate with your visitors and users know better what users need and can add the most valuable articles and recommendations into your knowledge base.
Dividing articles in the Knowledge base
Each article must correspond to a certain category. Use categories to sort information. This will help your visitors and agents to find the answer to their question within the shortest amount of time.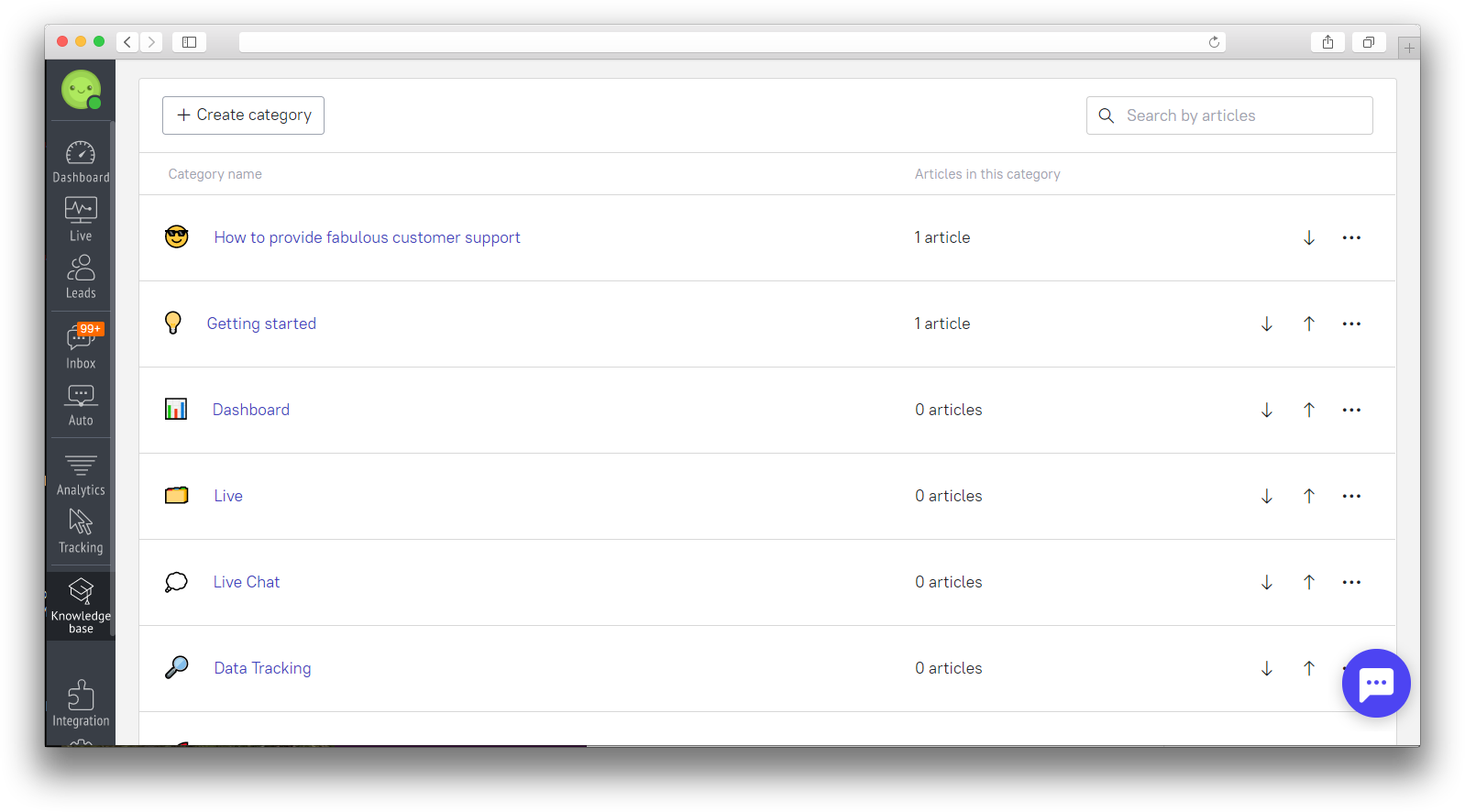 Article categories
When adding a category, you can add a name and an emoji, which will serve as an icon of your article.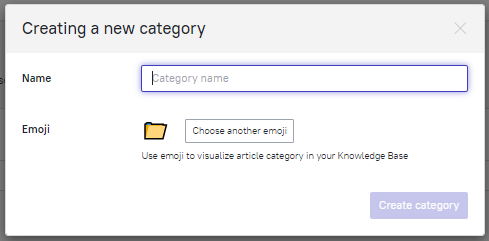 This is how categories are seen by your visitors
Right after you create a category, it appears on your knowledge base page. You can sort categories by changing their relative position using the arrows on the right.
If you want to delete a category, click the "Delete" button in "More options" section.

To create an article, choose or create a category that this article should correspond to and then click the "Create article" button. You can choose another category for the created article later.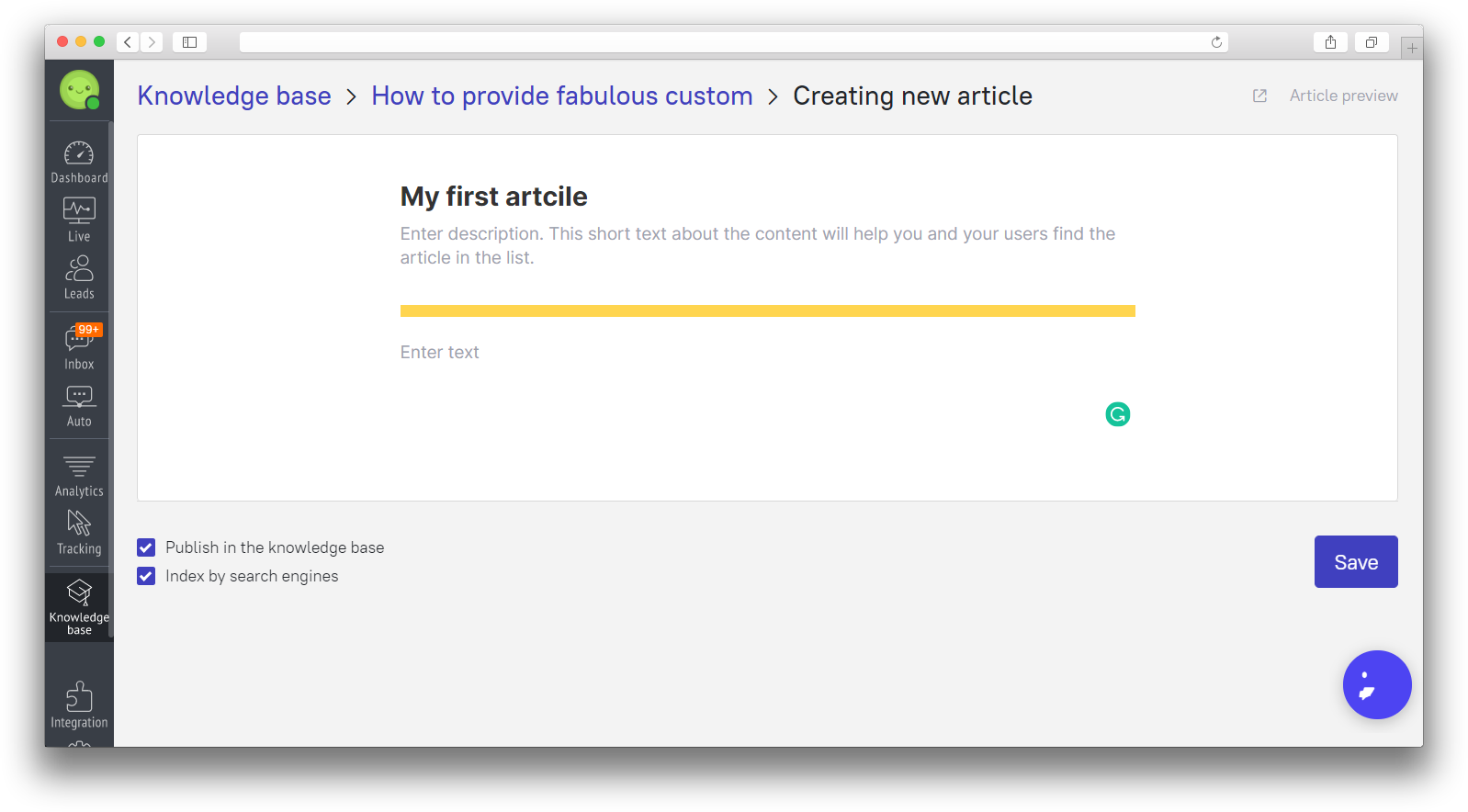 Inline article editor
Article name and description are required to create an article. Article description will display in the article list and also when you share an article with your visitors.
Article names correspond with Title in search engines. Article description corresponds with the Description. These fields influence the indexability of your articles and their positions in search results. Create them according to the SEO rules if search optimization is important for you.
If you want to save an article but it is too early for your visitors to see, uncheck the "Published" button. If you want to hide your article from search robots, uncheck the "Index by search engines" button (only available in the Knowledge base Pro module). Your article is published and indexed by the search engines by default.
After you save an article, you can see this article by clicking "Article preview" - you can preview both published and unpublished articles.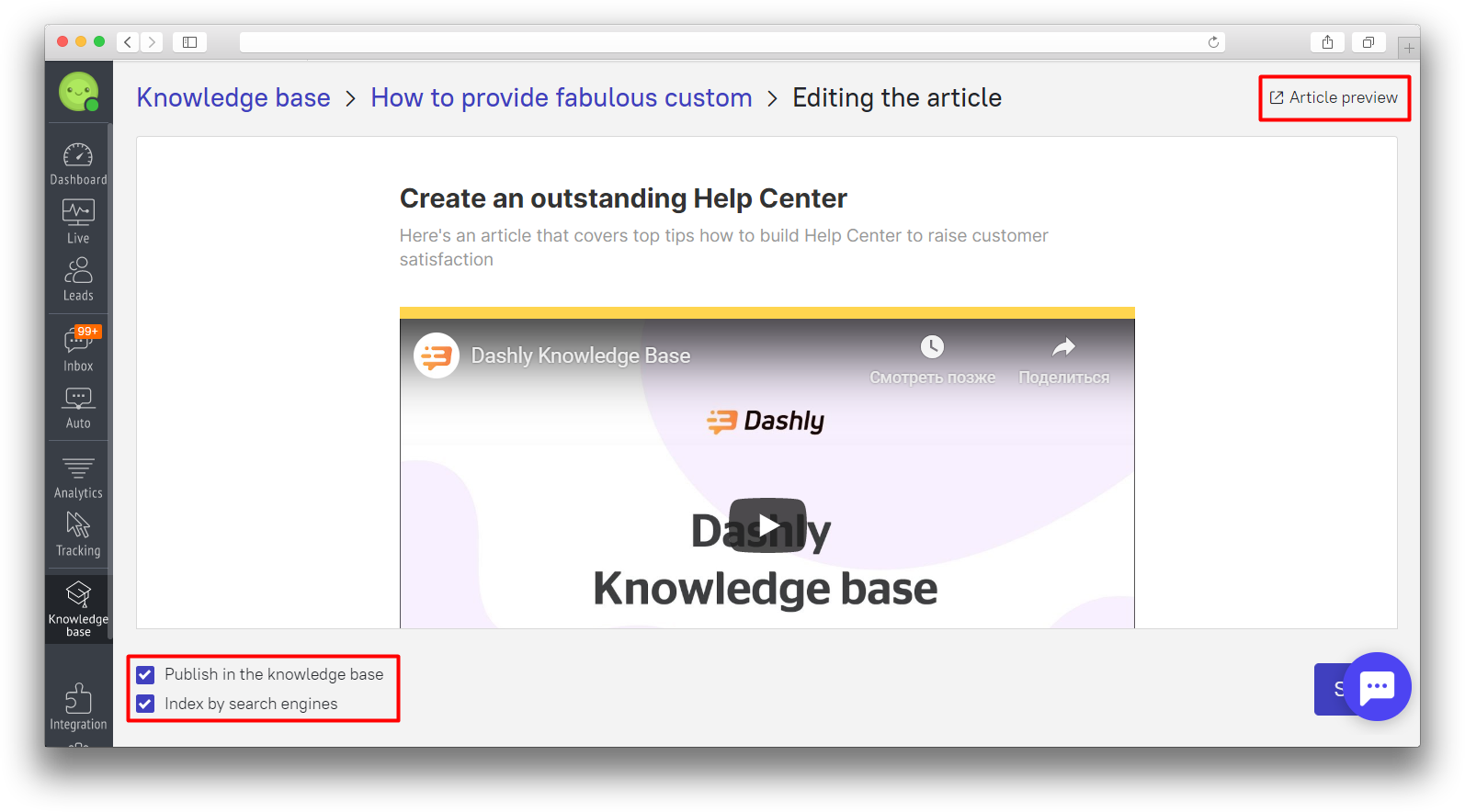 Using the Knowledge base in chat
Agents don't have to leave the Inbox section to find a needed article for a user, they can simply click the "Knowledge base" icon, pick an article and share it with a user right from the conversation window.