Let your visitors say what they think about your support team. Enable Support team evaluation.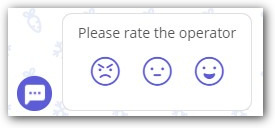 You can only see how visitors rate your conversations with the Team performance report add-on.
Add the Team performance report add-on
How does conversation rating work?
An operator solves the question and closes the conversation;

If during the timeout period (which is set in the Settings – Chat section), the lead doesn't send any messages, the question is considered to be solved. After that, the lead gets a conversation rating request;

If during the timeout period the lead sends some message, the conversation reopens and the process repeats.
Rating request is sent only when there are 5 or more messages in a question (from an operator and a lead in total).
When all conditions are met, a lead receives a chat message where they can rate the operator's service using one of three smiling faces each signifying one of the following rates: "Excellent", "Acceptable" and "Bad".
In case an operator gets an "Acceptable" or "Bad" mark, a lead will be asked to leave a feedback message so you can fix this situation, but the mark will be recorded even if the lead doesn't leave a comment.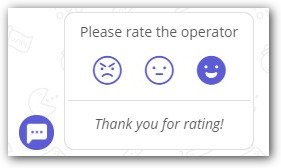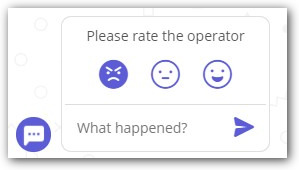 If this lead is not online the moment the rating request is sent, it will be duplicated to their email (provided we have their email address).
Your users can rate a conversation with an operator at any time and they won't be able to change the mark.
You can enable Conversation rating in the "Settings" – "Chat" section.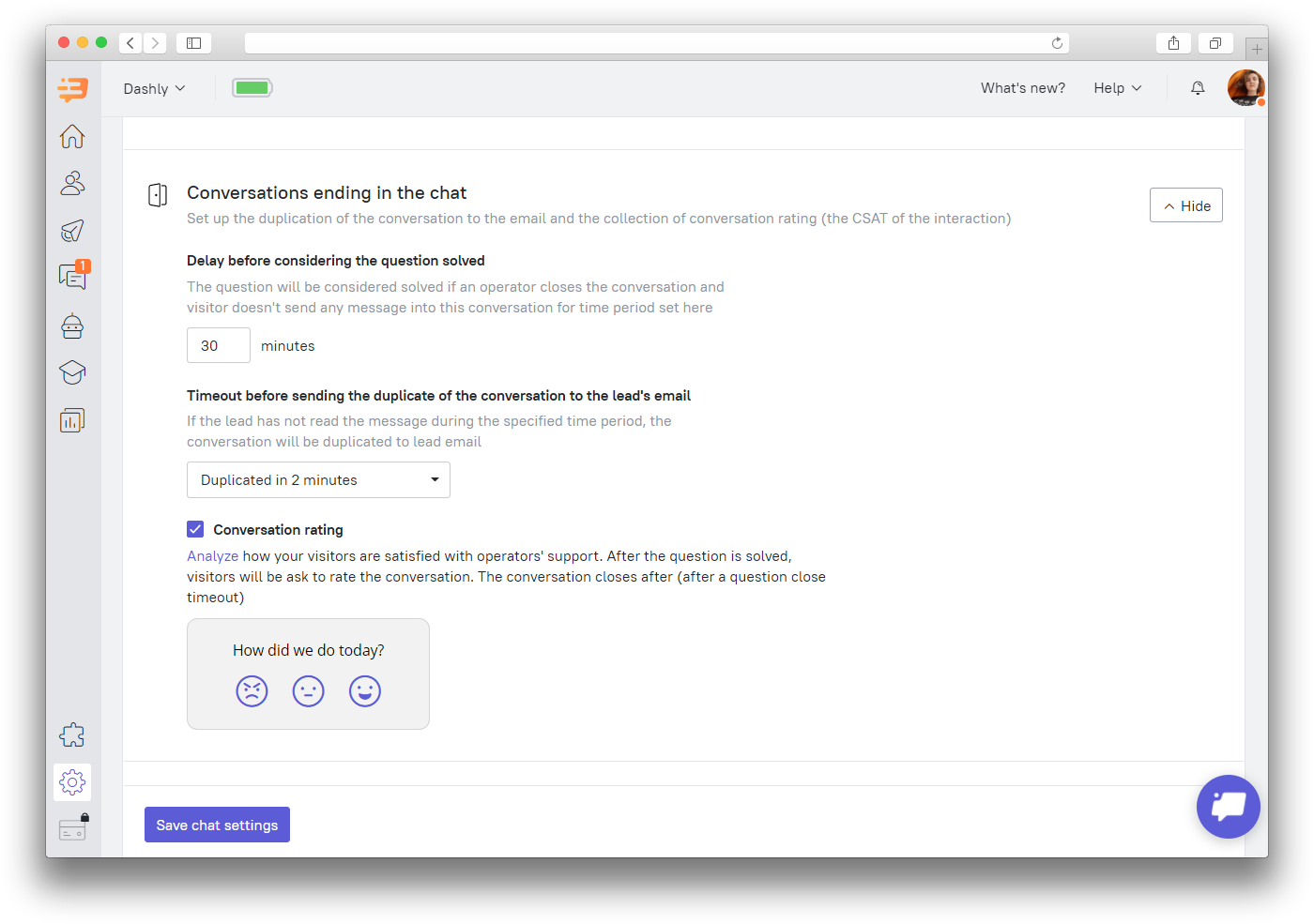 Set the timeout to consider questions as solved ones in the "Settings" – "Chat" section.
Important notes about the Conversation rating:
When the question is solved, an operator has to close the conversation. Only in this case, your lead will get a chance to rate the operator's service (they'll get a rating request after a timeout set in the "Settings" – "Chat" section).

Leads rate all operators who supported them during one question. For example, if operator Jack says "Hold on, I'll connect you with a professional in your question", and after a conversation with another operator this lead gives this conversation a "Bad" mark, operator Jack will get a "Bad" mark as well.

The result of the conversation rating is shown in the conversation window. The data about all marks is kept in the Team performance report.