Integration allows to manage an appointment or book a call with your users
Calendly can help you schedule an appointment or find the very best time for a call.


To invite someone to get in touch you could provide interlocutor with your Calendly link, so they could choose the best time slot.


Dashly + Calendly integration will help your chat operators to provide your users with Calendly link right from Inbox tab. It will take only a few clicks to suggest booking an appointment.
❗ Please note:
you can collect any user data via Calendly form (email and name are chosen by default), it can be specify in your Calendly account.
success message in chat and user event are passed to Dashly via webhoors. Only Pro and Premium Calendly plans support webhooks, therefore we won't be able to record success message and event to user card if you have free Calendly plan.
How to set the integration
Move to Integration tab and find Calendly in the list. Open integration settings, add it's title (it will be used for your working process only).

On the next step, you would be able to link your Calendly account, so Dashly will have access to all your Calendly time slots.

❗It's important: every chat operator should link their own Calendly account (if there is one) in the Integration tab or in the Inbox tab as well.


Enter your Calendly API key.
💡 To find the required API key, please move to your Calendly account. Find the Integrations tab, code is located at the top of the page.

Once settings will be saved you will be able to see Calendly icon in the Inbox tab.
How to share Calendly link with users
When the time comes to schedule an appointment or book a call you could share Calendly link with your users. It is much easier than asking more questions (i.e. when is the best time for your interlocutor to book a call, etc). Just select Calendly icon in your Inbox tab.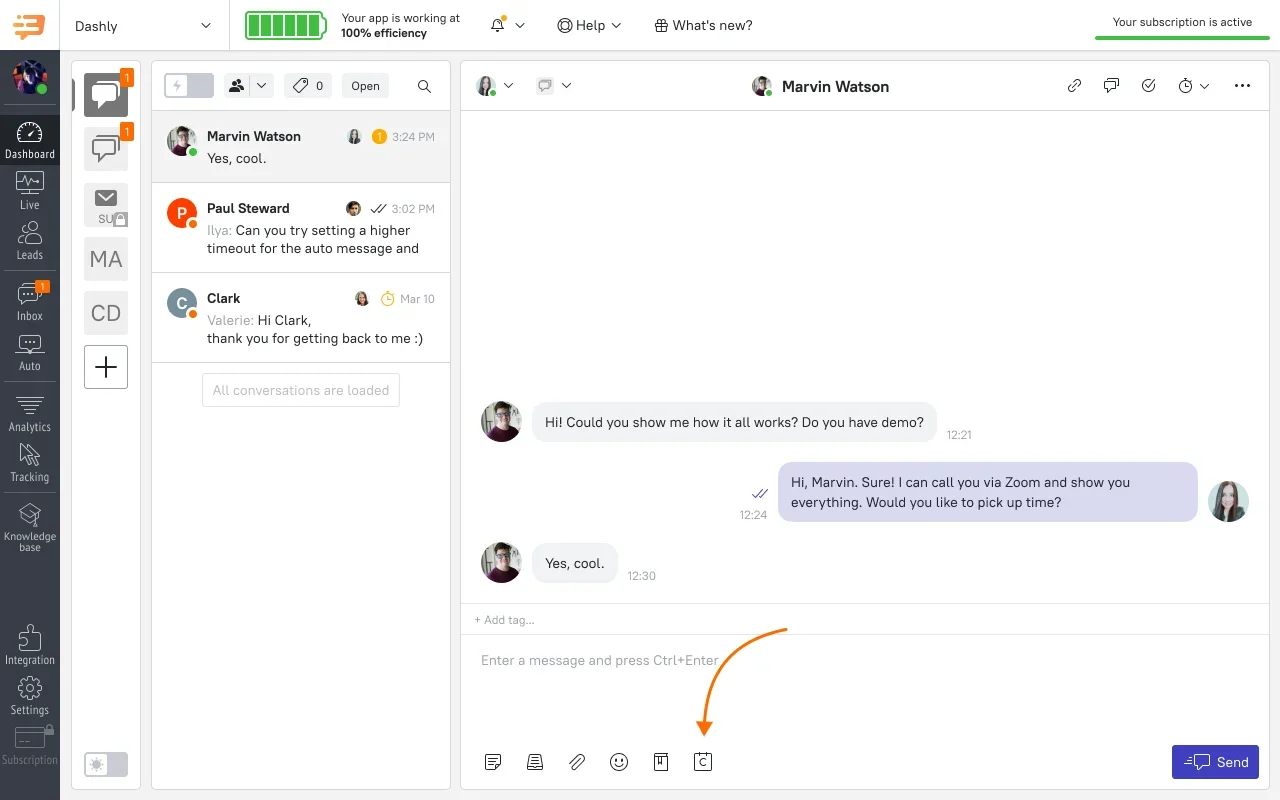 If you have already linked your Calendly account, you'll see a list with all your appointments. You can select any of them and it will be sent to the user with a suggestion to select any time slot for the appointment.
There is also a way to use the integration without linking your own account. You could just paste a link to the appointment and Dashly will show information about it.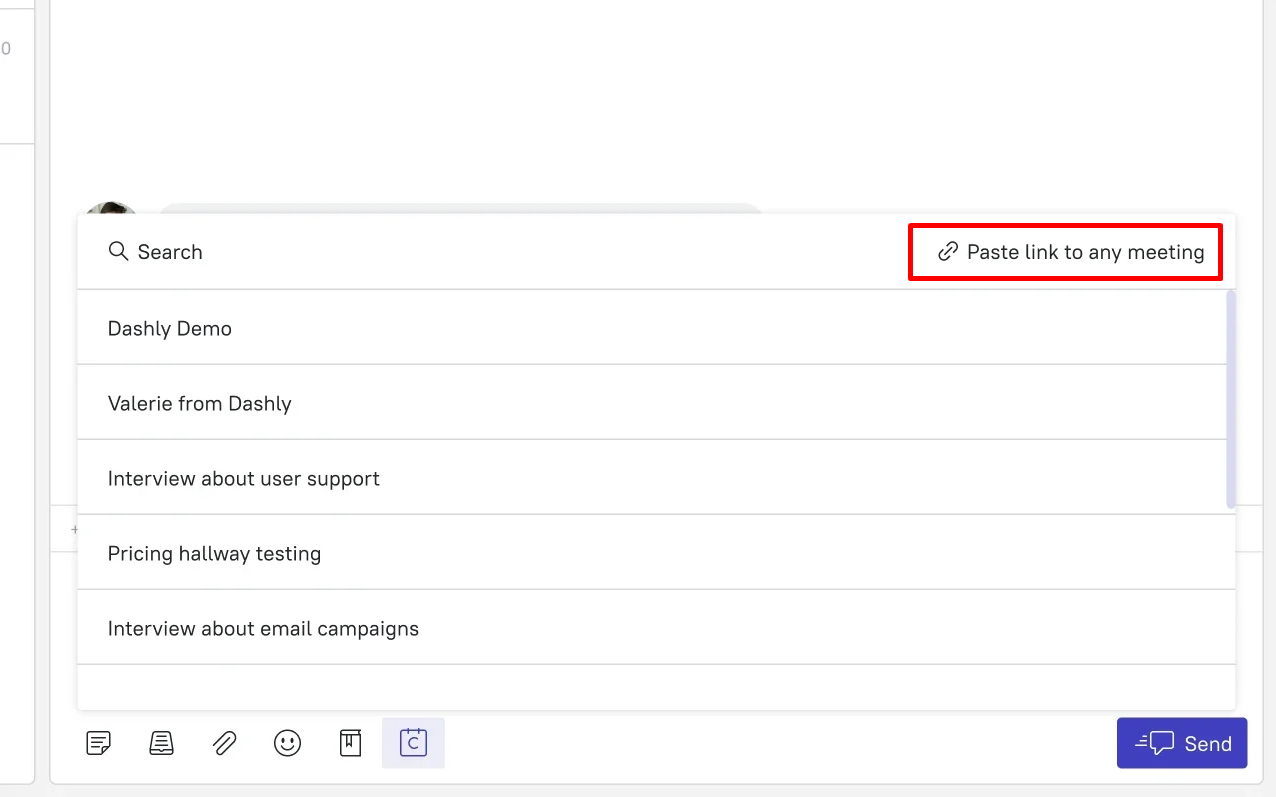 When the user clicks the button Calendly widget will appear in Dashly's chat widget. The user could select any available date and time among suggested time slots.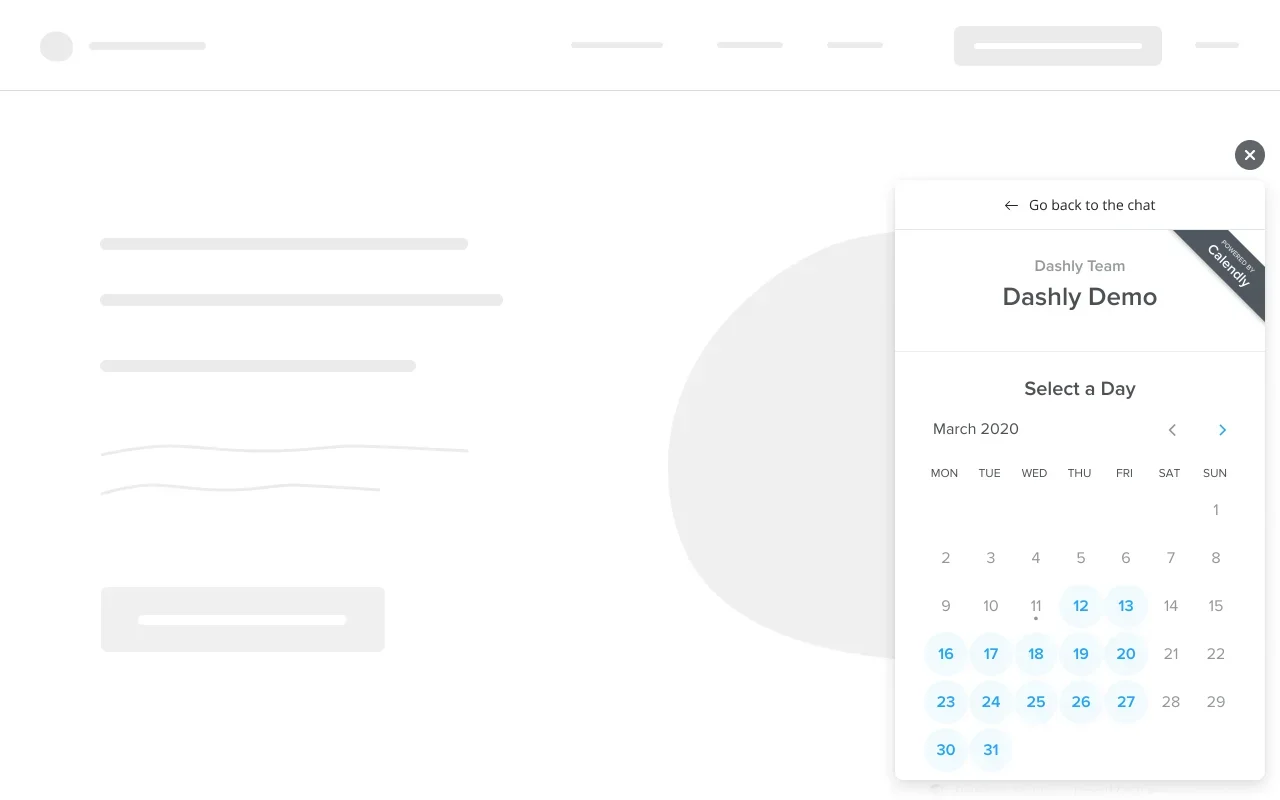 ❗It's important: If this user's name and email are unknown to Dashly (not recorded to the user's card), they will appear right after they are filled in Calendly form by this user. If the user's data is already there, we will not renew it.
Once the user successfully submitted the form, you'll see a message in the Inbox tab which will reflect the time and date of the appointment. All this information will appear in Calendly as well.