Welcome to Dashly - the platform that combines instruments for lead collection and management, communication, support and analytics. We're always here to help you get the maximum effectiveness from Dashly, and here is the first step - platform installation.
What you see first in Dashly is a battery - it is a step-by-step installation guide. You can always get back to it by clicking on the Battery image at the top of your admin panel. Click and check what steps are fully completed, and what you still can improve.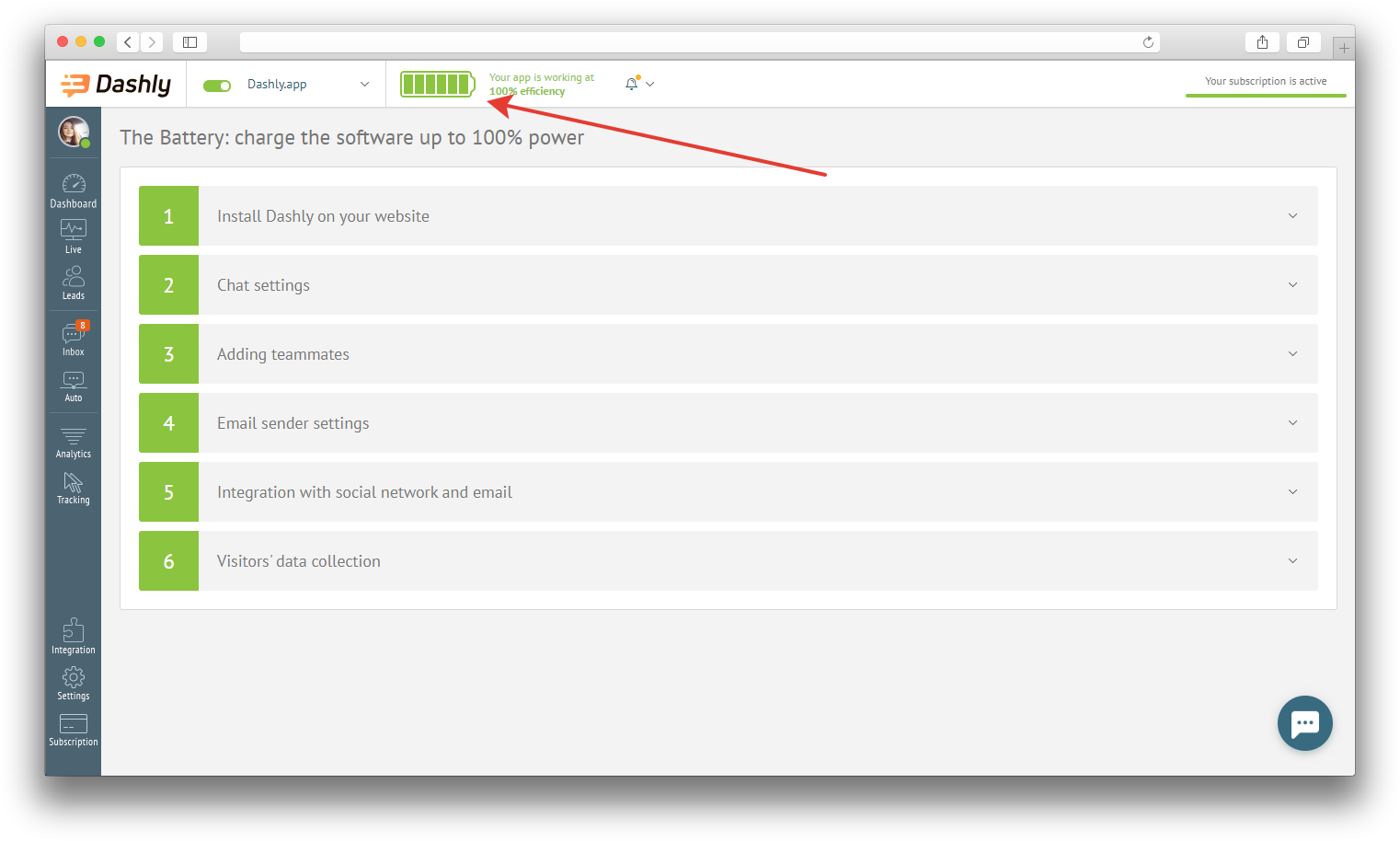 Let's follow each step to get 100% efficiency.
Install Dashly on your website
To get a live chat on your website and let Dashly work, you need to add Dashly code to your website.
Copy the code snippet from the first step of the battery and paste it into <head> of your website before the closing tag </head>. See the detailed instruction here.
You can install the platform using any CMS or use Google tag manager.
After you've installed the code, press the "Check if the code is installed" button - you'll see the confirmation notification on the right side of the button. Once this step is done, Dashly is installed.
Chat settings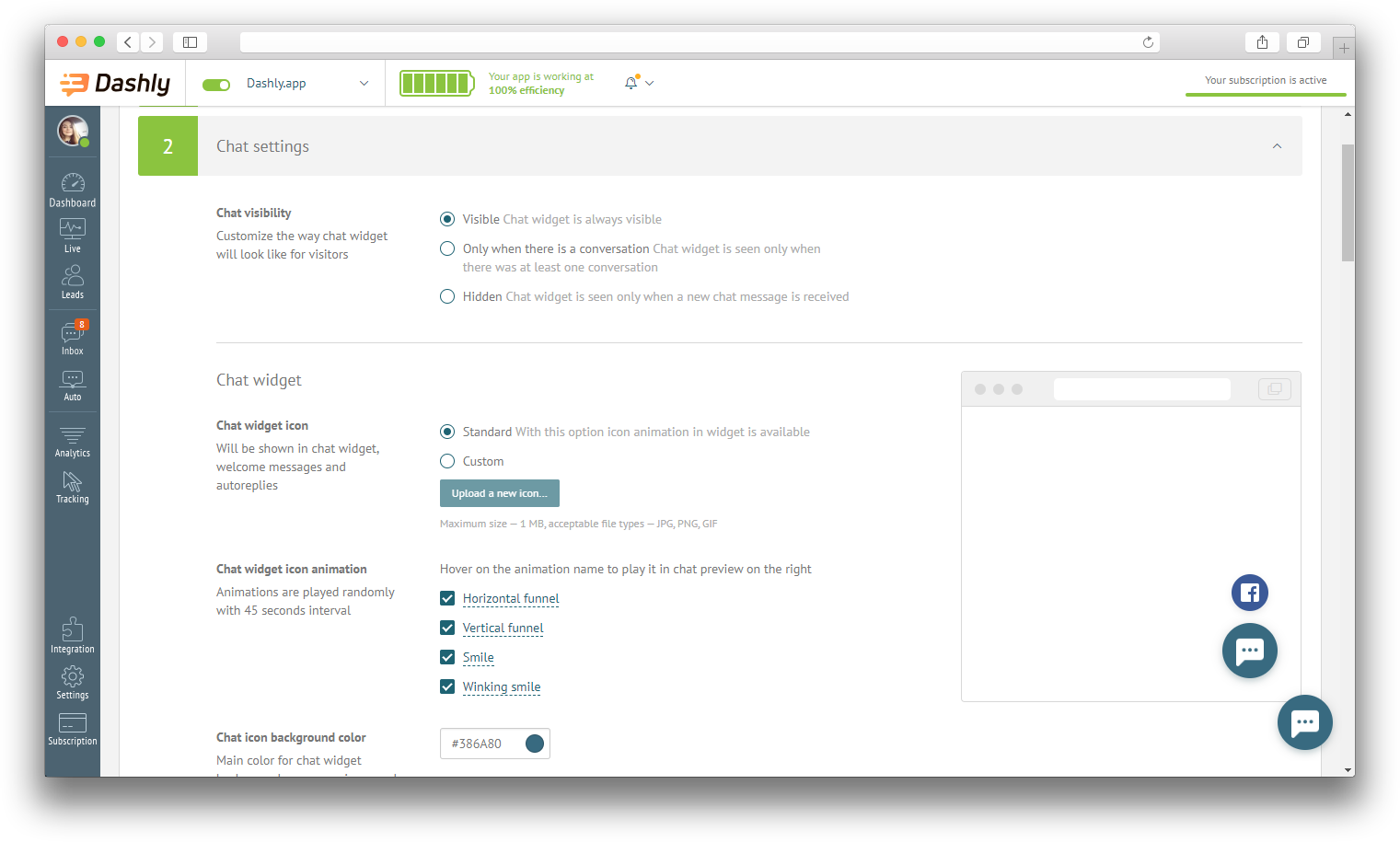 Configure the way Dashly chat will look like on your website. Here you can find all the basic settings: chat layout, greetings, offline messages and chat visibility.
Add operators who will talk in chat and don't forget to configure notifications.
Add useful integrations for your chat with the most popular messengers and social networks (Facebook, Telegram, Slack, Viber), email, and other useful softwares and services (Zendesk, Dialogflow).
Make your work even more effective allocating conversation by channels.
Add teammates
Add your colleagues using their email or login so they will be able to work in Dashly. There are three types of administration available - operator, administrator and super administrator.
You can also configure notification settings for each of the administrator.
Email settings
Dashly allows you to send manual and auto email messages.
Configure the sender's name according to you company or employee name.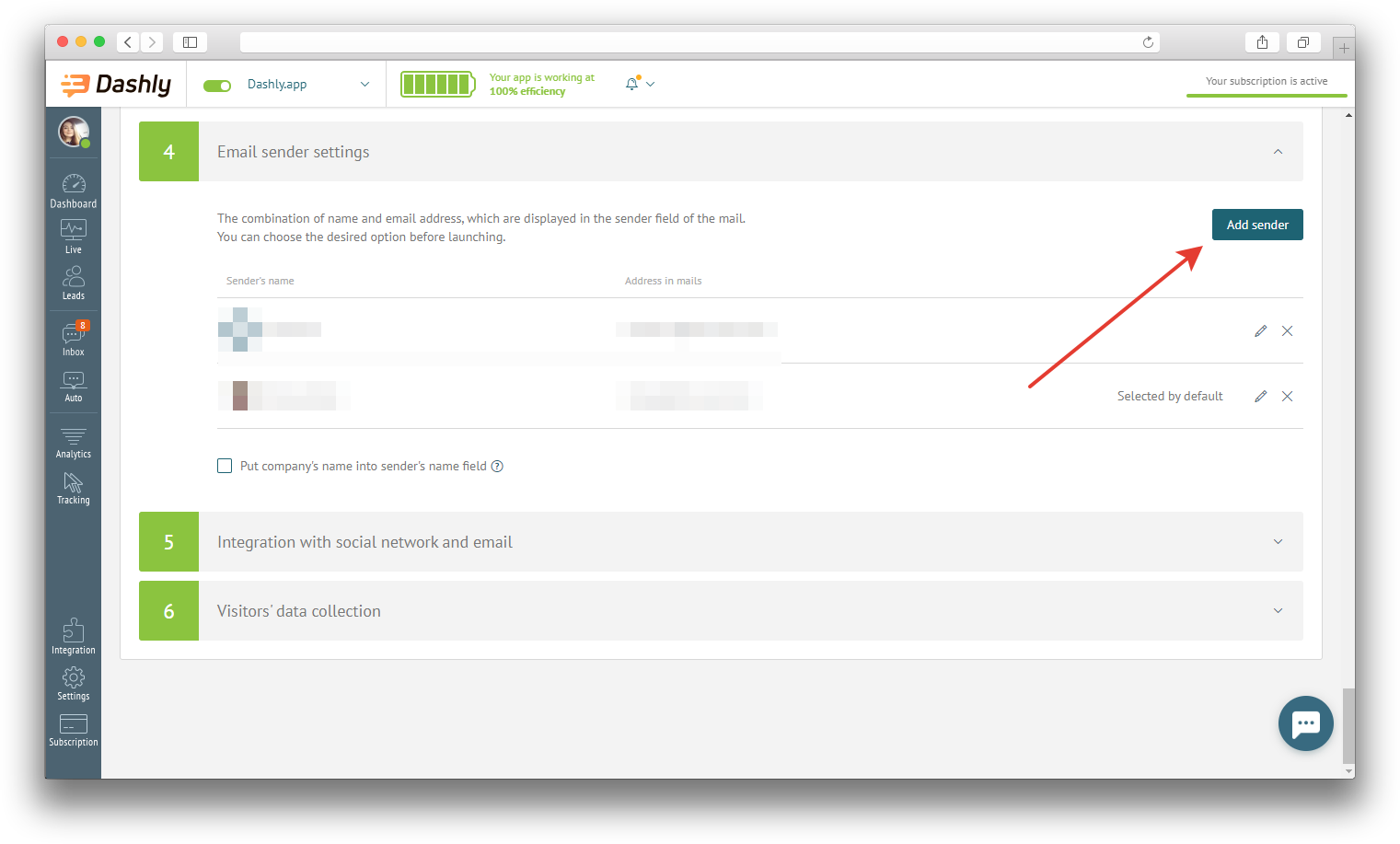 Integrations
You can integrate Dashly with the most popular messengers and social networks (Facebook, Telegram, Slack, Viber) and email to receive all messages in Dashly admin panel. Add other useful services (Zendesk, Dialogflow, etc.) to transfer the data into Dashly.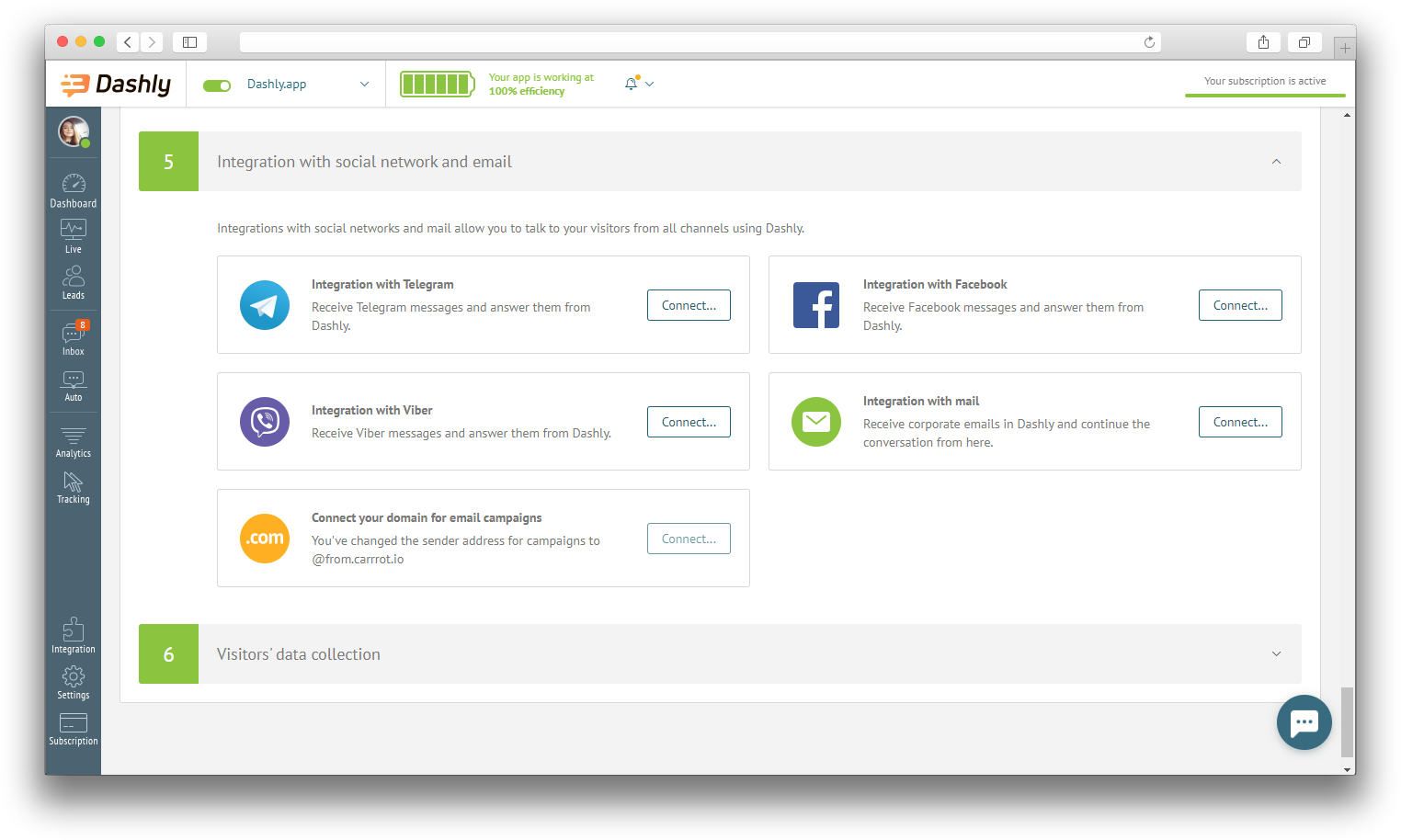 You can see all available integrations in Integration section.
Data collection
This is a very important step in Dashly configuration - don't miss it and spend time on it.
There are several ways to collect visitors' data:
Collect different data depending on you purposes:
Enable automatic collection of email addresses to collect emails from every field of your website. Anytime a visitor types their email to any field, it will be recorded in the lead's card.
After data collection is configured, you can make auto messages: chat messages, pop-ups and emails.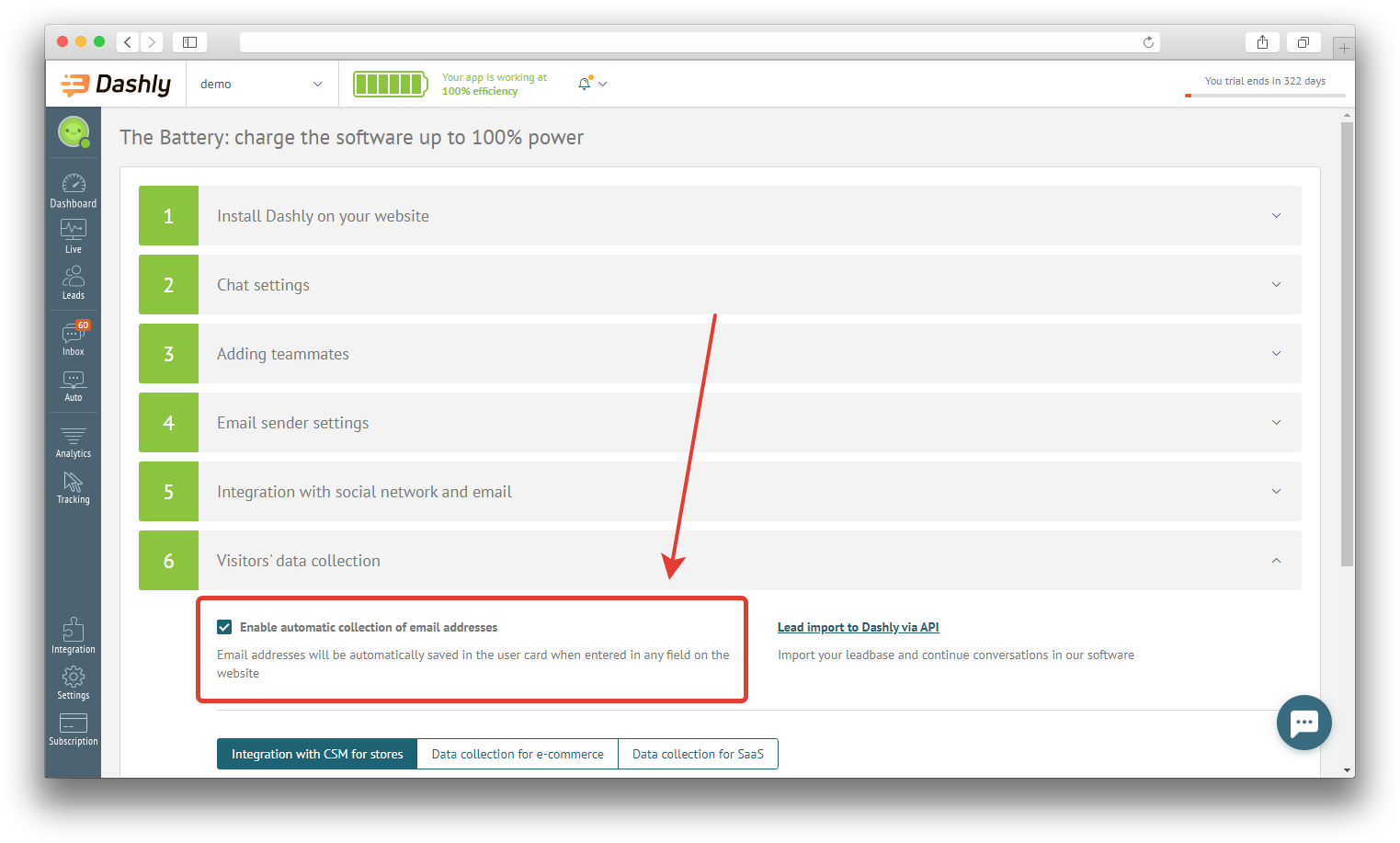 Congratulations! Dashly is now working at 100% efficiency.