Configure the profiles of your team members and set access types for them so they can work with their respective sections of Dashly
You can add team members with different access rights:
Operator. Has access to "Visitors online" and "Inbox" sections. Chat operators can reply to chat messages and send manual messages to users via their user cards.

Admin. Has access to all sections except "Subscription". You can additionally restrict lead export and bulk campaign rights for admins.

Superadmin. Has full access to every section of Dashly.
How to add team members
It will take you a few moments to add new team members. To go the "Settings" – "Add a team member" (alternatively, you can do it by going to "Settings" – "Team members" – "Add new team member")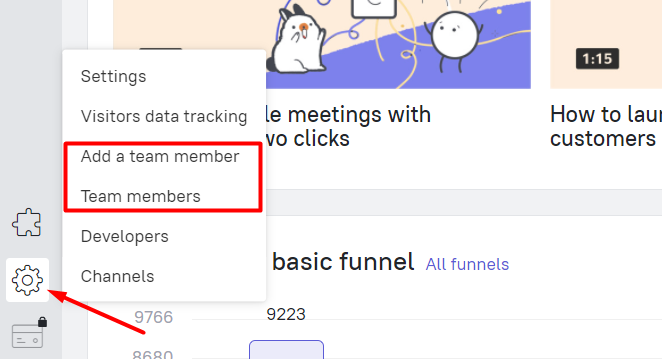 Enter the email of the new team member. If this email hasn't been used as a login for any other Dashly website before, an email with a password will be sent to this email.

Enter the user name. Your website visitors will see this name in the chat if this team member replies.

You can also set a name for internal usage (only visible to other team members).

Upload a profile picture.

Add email address in campaigns (this address will be used for sending manual and triggered messages and notifications about new chat messages). By default, this address uses the Dashly tech domain. You can connect your corporate email domain with the "No Branding" add-on.

Set access rights for the new team member. You can also set rights for lead export and mass mailing campaigns in case you're adding an Admin.

Set chat notifications to be received in browser, mobile app or via email.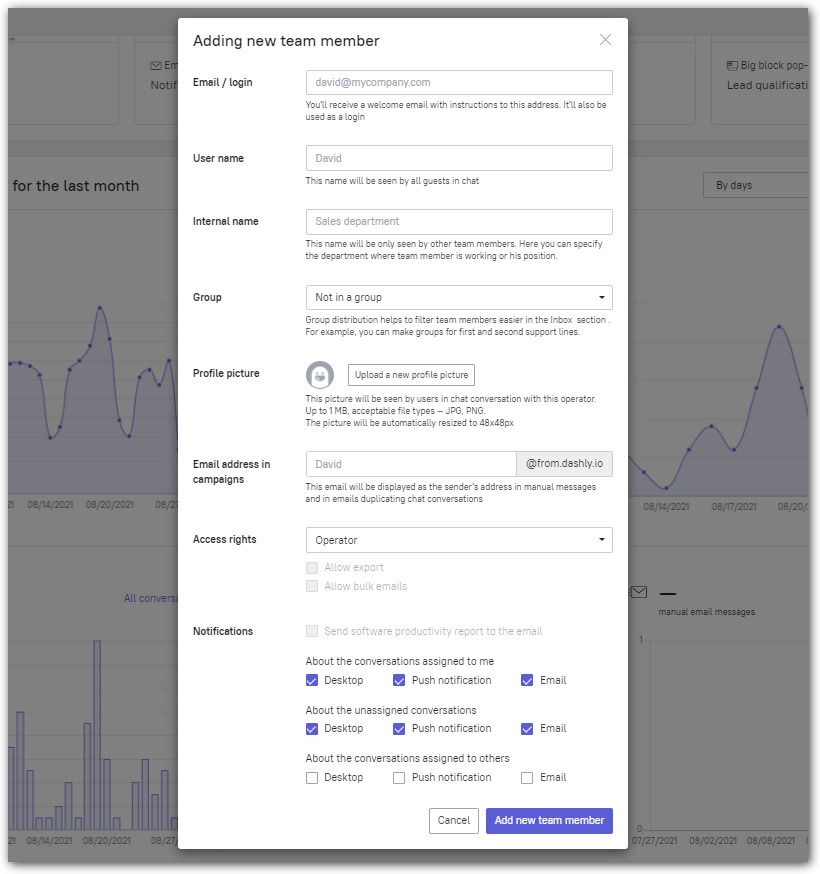 If you're adding an email which is already registered in Dashly, this team member will receive an email notification.
Changing profile settings
Team members can change their profile picture and visible name in the "Account settings" section: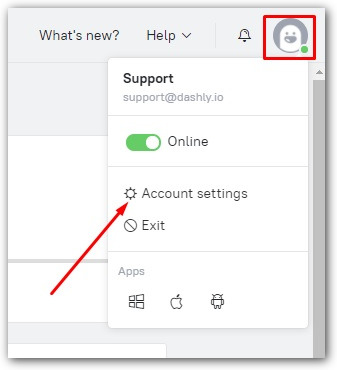 Team members can change their notification settings in the "Notifications" tab of the "Account settings" section.
Admins and Superadmins can change the settings of other team members in the "Team members" section: